Ugly low-pay truth of high street fashion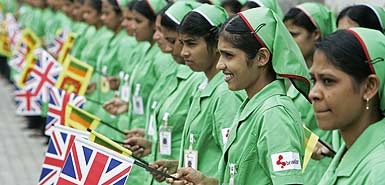 FACTORY workers in Sri Lanka are struggling to survive on basic wages as low as 25p an hour to produce clothes for leading British retailers, who say they abide by an ethical trading initiative intended to protect employees' rights.
Even in the better factories supplying companies such as Marks & Spencer and Next, thousands of women work six days a week to take home a basic wage of less than £50 a month. Some of the factory owners and retailers admit that the basic wages are insufficient to live on but say they are dictated by fierce international competition.
Tony Nadaraja, chief executive of the Hirdaramani Group, a company that supplies Marks & Spencer, Tesco and Asda, said that the basic 8,000-8,500 rupees (£43-£46) of his machine operators was not a "living wage".
Even with allowances and bonuses, average pay was £67-£70, he added: "We need to find ways of paying them about 15,000 rupees, at least, to allow them to live."
Next estimated a living wage at £86.50, even though many workers making its clothes earn less.
Retailers often publicise their membership of the Ethical Trading Initiative (ETI), which promotes a code of conduct on workers' rights.
It says that a "living wage" ought to be paid — "enough to meet basic needs and to provide some discretionary income". Employees should not have to work more than 48 hours a week on a regular basis.
The ETI admits there is a gulf between the code and actual pay. "The deplorable reality is that low wages remain a fact of life for many garment workers," said Stephen Rylance, its spokesman.
In a statement the ETI said that its members, including M&S, Next, Tesco and Asda, were "at the forefront of good practice". But "in this case the poorest-paid workers are saying they are struggling to meet basic needs. For those, even the efforts of the most responsible retailers are not yet good enough".
Interviews by The Sunday Times with more than 60 employees of 16 factories revealed that, contrary to the ETI's code, most of them had to work regular hours of overtime to survive.
Workers at the Brandix Seeduwa plant, which produces M&S trousers, said their basic monthly salary of £45 to £50 barely covered rent, food and clothes.
Meeting other costs was difficult, they said, even though the factory provided for some of their needs — offering, for instance, subsidised food and free medical care.
Wage slips indicated that they regularly worked 35-50 hours overtime each month for a premium rate of 34p an hour.
For Asuntha, 22, who has no knowledge of the ETI code, the reality is that her £45 salary covers only bare essentials such as rent, groceries and her factory canteen bill.
She said she regularly worked long shifts six days a week at Brandix Seeduwa. Her December wage slip showed she worked 52Å hours of overtime, earning £77.50. Two other slips showed overtime exceeding a legal limit of 60 hours a month, a finding acknowledged by M&S.
Asuntha said she had no choice but to do overtime. Her basic wage was "not enough because of inflation", she said.
Her one-room shack, which costs £11 a month to rent, is barely big enough for a bed, a table and a small stove. Her clothes are suspended from the ceiling to save space. A shower in the courtyard is shared with three other lodgers.
Inoka, 25, a machine operator at the Next factory who earns a basic salary of £53, shares a room 6ft by 9ft and a single bed with her aunt to save money. "It's not enough to live on," she said.
Her November wage slip showed that she worked 65 hours of overtime, five more than the legal limit.
Marks & Spencer defended its ethical reputation. "It is our view that M&S is one of the UK's leading retailers for ethical performance out of the ETI membership," it said in a statement.
"Unlike many other retailers, we have a permanent ethical compliance team on the ground in Sri Lanka … to ensure that suppliers meet our high standards."
The company said that machine workers at the Brandix Seeduwa factory, whose basic monthly wage ranged between £45 and £54 in 2009, plus attendance allowances and other benefits, earned over 25% more than the minimum wage in Sri Lanka.
"There is no one definition of a living wage. We strongly believe that Brandix Seeduwa factory wages are very fair relative to the cost of living in Sri Lanka."
A spokesman for M&S said that it would strive to meet the ETI recommendations: "But there will always be some instances of not being able to meet this aspirational code because of the nature of the industry (global and labour intensive). It is the responsibility of the management of the supplier to ensure that this is not a regular occurrence."
Ashroff Omar, chief executive of Brandix, said the average monthly overtime worked in 2009 was 38 hours.
M&S and Brandix emphasised other benefits for workers including bonuses, a subsidised lunch and medical facilities. The factory has won international awards for environmental standards.
Next acknowledged that similar 2009 basic wages of £50-£56 for workers making its own T-shirts, jerseys and children's wear did not amount to a living wage, although bonuses and allowances took the lower figure up to £70.40. It said subsidised lunches were worth an additional £14.
"As a basic wage this is less than what we think the living wage in Sri Lanka is, which is £86.50," said Pam Batty, global code of practice manager.
"Our aim is that workers are able to make a living wage within normal working hours. That's what we're committed to in our code but we are not there yet in all cases," she said.
Both companies said workers would be given a pay rise of £2.70-£3.34 a month this year.
Tesco and Asda said they were trying to drive "sustainable" improvements in the welfare of workers.
Next's view that many garment workers were not earning a living wage was backed by local economists and union officials, who said basic salaries were inadequate.
Simon McRae, of War on Want, the anti-poverty charity, said: "The grim reality is that none of Britain's high street retailers are doing the right thing by the people who produce their clothes."
(For updates you can share with your friends, follow TNN on Facebook, Twitter and Google+)