Government moves against media raise fears for Sri Lankan democracy – Times Online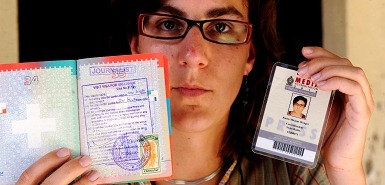 A crackdown on media organisations has raised fears for democracy in Sri Lanka days after President Rajapaksa's disputed re-election.
Media and rights groups accuse Mr Rajapaksa's Government of closing and blocking news outlets and harassing, assaulting and detaining journalists who it claims supported General Sarath Fonseka — a former army chief and Mr Rajapaksa's rival in last Tuesday's election. Sri Lanka is South Asia's oldest democracy, but Mr Rajapaksa severely curbed civil liberties during the military campaign that led to the defeat of the Tamil Tiger rebels last May.
During vote counting last Wednesday, his Government sent troops to surround General Fonseka's hotel headquarters, and raided his campaign office after he disputed the result.
On Friday authorities detained Chandana Sirimalwatte, the editor of Lanka, a pro-opposition weekly newspaper, on unspecified charges. On Saturday they closed the newspaper. Media owners, editors and rights bodies issued a joint statement yesterday describing the move as a "fatal blow to media freedom and democracy". It said: "Promises made during the presidential campaign to defend press freedom and speed up the investigations into assassinations of journalists have evaporated within days."
Authorities also tried to expel Karin Wenger, a Swiss radio reporter, apparently for asking questions about the conduct of the election at a press conference with ministers. Ms Wenger asked why troops had been deployed around General Fonseka's hotel, and why Basil Rajapaksa, the President's brother and adviser, went to see the Independent Elections Commissioner just before the latter announced the final results. The ministers denied that Basil Rajapaksa was meeting the commissioner, and said that he was asleep at the time, but Ms Wenger said that she saw him leave the Commissioner's office immediately after the press conference.
The Government revoked her accreditation and ordered her to leave the country, but was forced to back down after protests by rights groups and the Swiss Embassy. There were also reports that authorities had blocked access to websites critical of the Government and sealed the offices of one, LankaeNews. Prageeth Ekneligoda, a regular contributor to the site, has been missing since January 24.
(For updates you can share with your friends, follow TNN on Facebook, Twitter and Google+)