Largest possible turnout, 99.33 percent British Tamils aspire Tamil Eelam
In an unprecedented turnout that brought 64,692 Eezham Tamils to vote in the referendum held last weekend in UK, 64,256 (99.33%) said they aspire to the formation of independent and sovereign Tamil Eelam in the contiguous north and east of the island of Sri Lanka. 185 (0.29%) voted against and 251 (0.39%) votes were spoilt. Polling took place in sixty-five booths across London and in major towns and cities throughout UK. Five days after presidential poll proving sharp and clear divide in outlook between Sinhala and Tamil nations in the island of Sri Lanka, the near-total diaspora verdict in UK for Tamil Eelam gains much significance, observers said.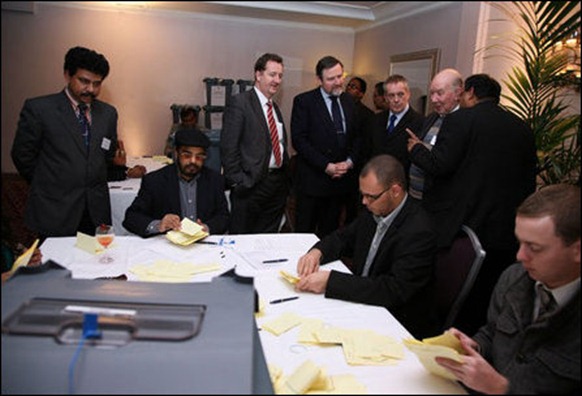 Monitored counting at Park Lane Hotel
The referendum was initiated by an independent group of British Tamils, who formed a body called Tamil National Council (TNC) a few months ago for this purpose. All main stakeholders of Eezham Tamil nationalism in UK, Tamil Youth Organisation (TYO), British Tamil Forum (BTF), Tamil Eelam Activists and the Country Working Group – UK for the formation of Transnational Government of Tamil Eelam (TGTE) joined in making the endeavour a success.
In the absence of adequate enthusiasm in Tamil visual media establishments operating in UK, the efforts of Eezham Tamil youth of the second generation diaspora, led by TYO, played a major role in informing and mobilising the masses through social media networking. Tamil grass root organisations throughout UK rendered extensive support and infrastructure facilities.
The organisers refrained from committing on the percentage of voter turnout as there are no official or authentic statistics on the number of Eezham Tamils in UK. However, Tamil academic circles involved in diaspora studies, citing earlier assessments of population said the turnout could be ranging around 70 percent.
The referendum was conducted systematically, displaying a high level of professionalism, reports TamilNet correspondent in UK, citing voters and observers.
All Eezham Tamils in UK, over the age of 18, were eligible to vote.
Polling stations reported that all age groups of eligible voters – some who had voted back in 1977 and others born and raised in Britain – came out in their thousands to partake in the referendum.
The polls were overseen and officiated over by independent observers, including several serving councillors and members of parliament. Despite unexpected turnouts in certain areas, officials reported that the voting ran very smoothly.
The results were officially announced at a gathering of British journalists, parliamentarians, councillors and Tamil activists invited at the Ball Room of Park Lane Hotel on the Piccadilly, London, Sunday night, where officials in an adjacent room, overseen by independent observers, counted the votes.
Professor Bryan Woodriff, chairman of the referendum monitoring committee, announced the overall results to the enthusiastic audience.
The event was addressed by guest speakers Hugh Charlton, a human rights barrister and member of CAMPAC, Barry Gardner, MP Brent North, Mike Griffiths, a Labour party activist and trade unionist, Shiobhan Mc Donagh, MP for Mitcham and Mordem, Raj Boodhoo, a solicitor and a international human rights activist, Andrew Charalambous, Conservative parliamentary candidate for Edmonton, Professor Theeran from Tamil Nadu, Joan Ryan, Enfield North MP, Andrew Pelling, independent MP for Central Croydon and Jan Jananayagam, MEP candidate.
The organisers provided live video feed to media.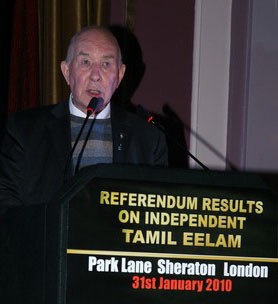 Professor Bryan Woodriff, Chairman of the overseeing body of the referendum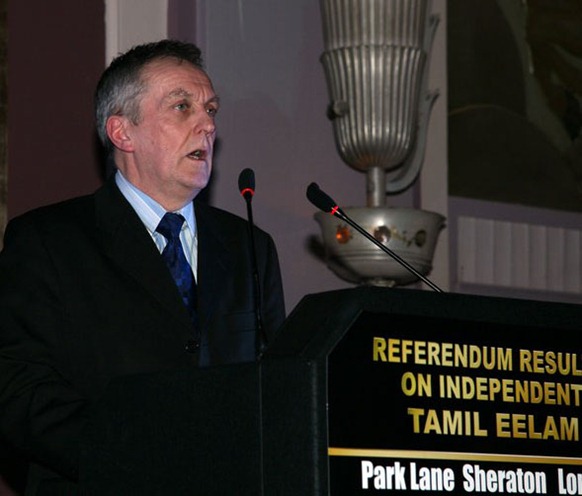 Labour party activist and trade unionist Mike Griffiths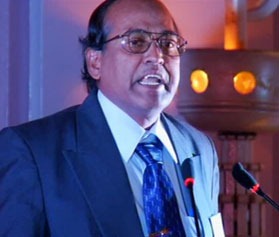 Professor Theeran from Tamil Nadu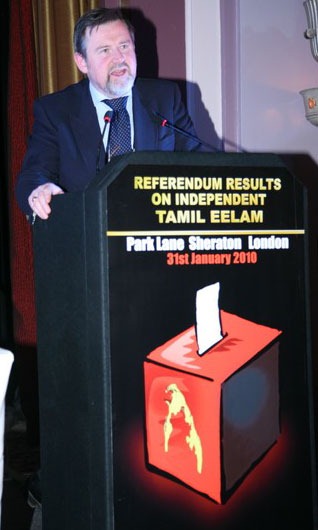 Barry Gardner, MP Brent North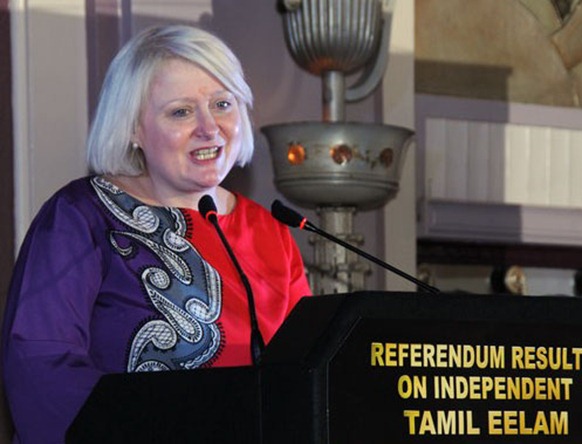 Shiobhan Mc Donagh, MP for Mitcham and Mordem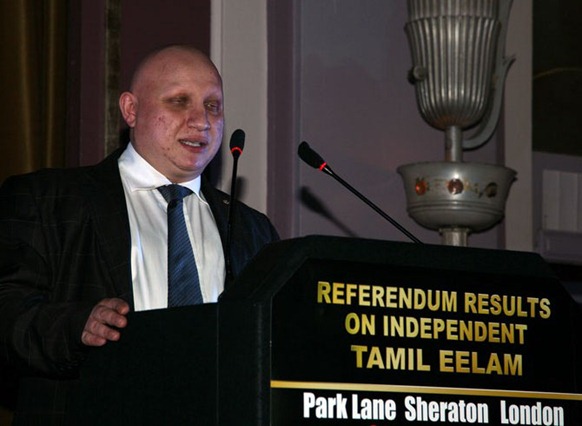 Andrew Charalambous, Conservative parliamentary candidate for Edmonton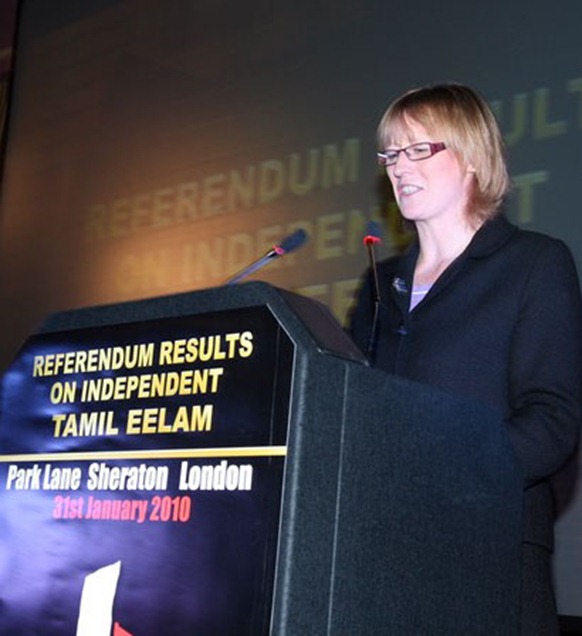 Joan Ryan, MP Enfield North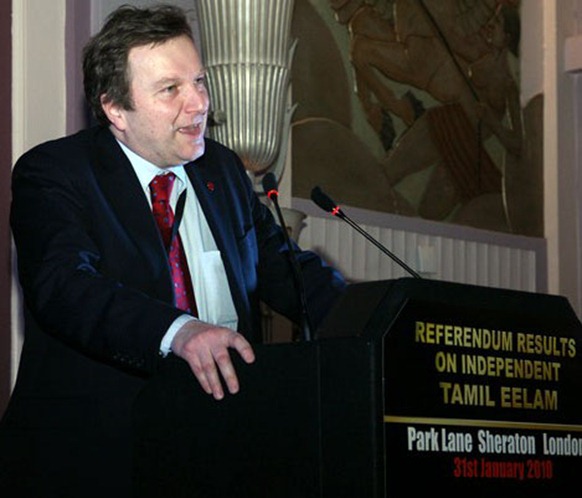 Andrew Pelling, independent MP for Central Croydon
| | |
| --- | --- |
| | |
| Sri Ranjan of Tamil National Council | Jan Jananayagam, Eezham Tamil candidate for the European Union Parliament in the last elections |
| | |
| Announcement of the results of individual poll centres at the event | Project Manager Raj addressing the audience |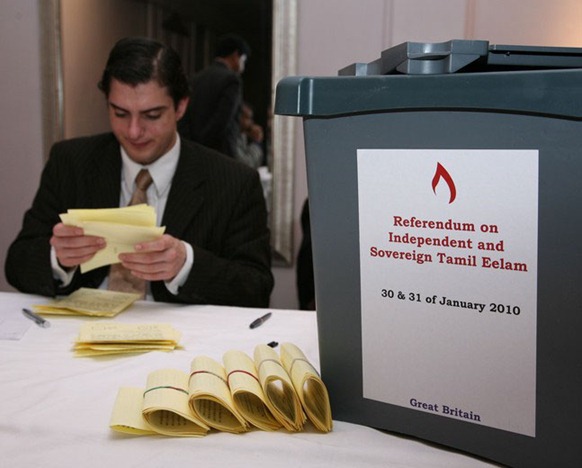 Counting of results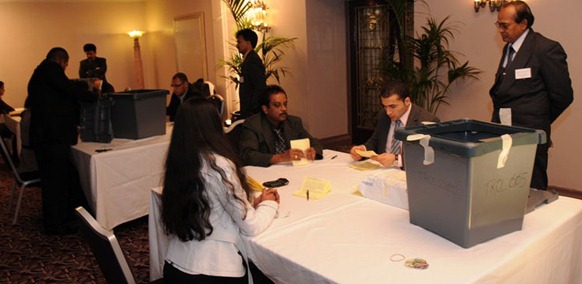 Professor Theeran from Tamil Nadu witnessing the counting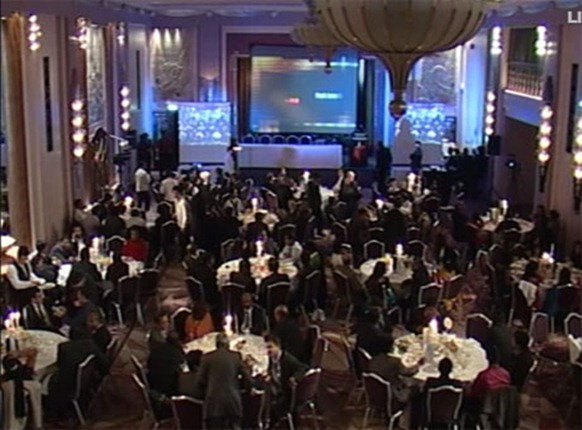 The event organised for the announcement of results at Park Lane Hotel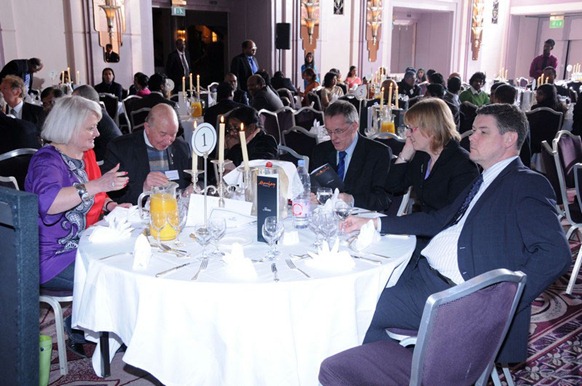 Some of the British politicians at the event convened for the annoncement of results
(For updates you can share with your friends, follow TNN on Facebook, Twitter and Google+)