'Tamils must not be left behind after election' – UCA News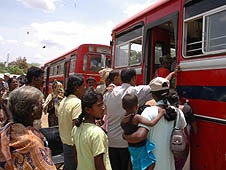 The northeast Tamil heartland must not be left out of post-election development, one of Sri Lanka's top Buddhist monks says.
"Special interest should be taken for the reconstruction of tanks and the reservoirs in the war-torn areas of the north and east. The people in all parts of the country should be equally treated," the Venerable Buddharakkitha Thera, told the media.
Sri Lankan Bishops' Conference president Bishop Vianney Fernando also appealed to re-elected President Mahinda Rajapaksa to make peace, especially "resolving the issues relating to the Tamil minority."
Their comments echoed those of international observers who say there must be justice for Tamils.
"He [Rajapaksa] can continue the Sinhalese nationalist policies that defined his first term, or he can address the serious grievances of the minority Tamil population that lay behind the country's 26-year-long civil war," Human Rights Watch legal and policy director James Ross wrote on the Huffington Post news website.
Turnout in the predominantly Tamil north-east was only 30 percent, compared to 70 percent of eligible voters generally.
Rajapaksa has come under immediate pressure from Western powers to investigate alleged war crimes. The United Nations says that at least 7,000 civilians, virtually all ethnic Tamils, died in a "bloodbath" in the final months of the conflict.
President Rajapaksa is today beginning his first full week in power after being swept back to office although has not yet taken his oath of office. His opponent in the poll, General Sarath Fonseka, former head of the victorious government forces, cried foul and is challenging the result.
Both men tried to capitalize on the end of the civil war in their campaigns.
"Now is the time to find lasting peace where all communities can live with dignity and in harmony," the country's chief Buddhist prelate the Venerable Thibbatuwawe Sri Siddhartha Sumangala Thera said.
He also demanded a full-scale inquiry into the deaths in an Election Day blast. Two persons including a Buddhist monk were killed in the Gampola area. Police say they are investigating.
While there is little appetite in the capital for raking over election campaign rights and wrongs, there are concerns about election irregularities in the north, the heartland of the defeated Tamil Tiger rebels.
"On the election day some IDPs [internally displaced persons] in the north were not allowed to vote with their temporary identity cards," one parish priest told UCA News.
"Many were not provided transport to travel to their respective polling stations.
"As a result, many IDPs were deliberately denied an opportunity to vote at the election," said the priest who wanted to remain anonymous.
(For updates you can share with your friends, follow TNN on Facebook, Twitter and Google+)