Sri Lanka court extends President Rajapaksa's tenure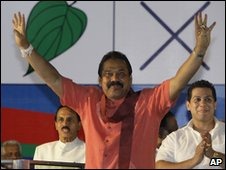 The Supreme Court of Sri Lanka has ruled that President Mahinda Rajapaksa's new six-year term of office will begin in November 2010.
The president had wanted his new term to begin in 2011, although he called elections two years early to capitalise on his defeat of Tamil Tiger rebels.
He won 57.8% of votes, compared to 40% for his main rival, Gen Sarath Fonseka.
Gen Fonseka was army chief when government forces defeated separatist rebels after 26 years of civil war.
Correspondents say that despite the fact he wanted his new term of office to start later, the court ruling is a boost for him.
His new tenure will effectively be six years and nine months instead of the designated six years.
"The Supreme Court says the new term begins on 19 November this year," an official in the president's office told the AFP news agency.
The court's decision means that President Rajapaksa will remain in power until 2016.
Opposition anger
President Rajapaksa filed a request to the court to allow his term to begin later.
Former president Chandrika Kumaratunga also tried to extend her term in office on similar grounds in 1999.
The court rejected her request partly because she had already taken the oath of office for the new presidential term.
The decision is likely to anger opposition supporters. They are due to stage a rally against the election results in Colombo on Wednesday.
Gen Fonseka was President Rajapaksa's staunch ally while they were battling Tamil Tigers rebels, but they later fell out over who should take credit for winning the war.
On Monday a group of senior Sri Lankan military officers who supported the Fonseka campaign were dismissed because they were deemed a a "threat to national security".
'Critics harassed'
On Tuesday Amnesty International released a statement saying journalists, opposition supporters and critics of the government have been arrested and harassed since the election.
"Victory against the Tamil Tigers followed by an historic election should have ended political repression in Sri Lanka, but instead we have seen a serious clampdown on freedom of expression," Madhu Malhotra, Amnesty's Asia-Pacific deputy director said.
And US-based rights group Human Rights Watch said Sri Lanka should end the indefinite detention of some 11,000 people in custody suspected of having links to Tamil Tiger rebels.
(For updates you can share with your friends, follow TNN on Facebook, Twitter and Google+)