burnt Ballot papers found:UNP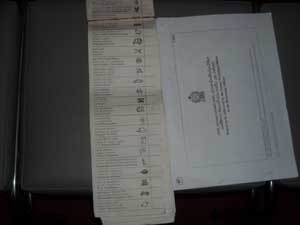 Several bundles of marked ballot papers that had been cast at the recently concluded Presidential Election have been found near the Ratnapura Technical College in Ratnapura about two days ago, UNP MP Thalatha Attukorala told Daily Mirror yesterday.
Ms. Attukorala told Daily Mirror that the ballot papers, a majority of which had been marked in favour of the common Opposition candidate Sarath Fonseka, had been found near the district counting centre. She said they had been handed over to her by some of her supporters.
The UNP MP said there were a number of bundles, each comprising 60 to 70 ballot papers. She said some bundles had been burnt and reduced to ashes. "My supporters were able to recover some unburnt bundles," she said.
She said that it was clear that the winning candidate had been able to muster such a large majority because so many legitimate ballot papers had been discarded.
Asked what she intended to do with the papers, Ms. Attukorala said she had handed the bundles over to the party leadership to take appropriate action.
Meanwhile, the Department of Elections said they had not received a complaint regarding this matter.
Daily Mirror learns that it is illegal to destroy ballot papers until six months have passed after the conclusion of the relevant election.
A delegation from the Opposition, including UNP Deputy Leader Karu Jayasuriya, General Secretary Tissa Attanayake and MP Lakshman Kiriella met the Mahanayake of the Malwattta Chapter the most Ven Tibbotuwawe Sri Sumangala Thera and the Mahanayake of Asgiri Maha Vihare the most Ven Udugama Sri Ratanapala Buddharakkitha Thera. They showed them the ballot papers and briefed them on the situation regarding the recently concluded presidential election.
Mr. Jayasuriya., said that this was the first time that ballot papers had been found in this way. He said that his party could not imagine how they could face the General Elections which were around the corner, under such circumstances.  "The Government could arrest all of us; but we have come to inform the Mahanayakes of how the people's right of franchise has been violated," he said.
He told the Mahnayake Theras that that they thought they should inform them of the grave situation which the country faced.  He also said that an election petition was been prepared by General Sarath Fonseka, to be presented to the Supreme Court shortly. .
The most Ven Tibbotuwawe Sri Sumangala Thera said it was a sad state of affairs if the election was conducted in such a manner as millions had been spent on the poll.
(For updates you can share with your friends, follow TNN on Facebook, Twitter and Google+)