Sri Lanka opposition protests at 'rigged' election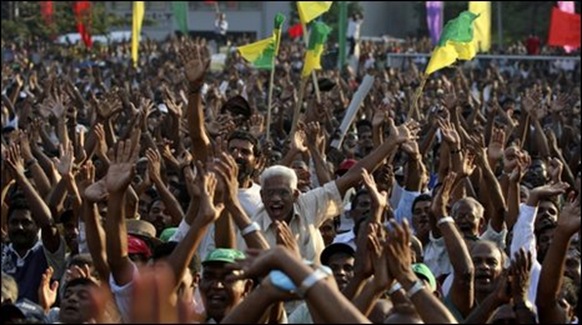 About 5,000 Sri Lankan opposition supporters have demonstrated against President Mahinda Rajapaksa and his government in the capital, Colombo.
The protesters alleged that last week's presidential election result, easily won by the incumbent, was fraudulent.
Earlier, the election commissioner said he stood by the result.
Dozens of military officers and others have been arrested over an alleged plot to kill the president since he defeated former army chief Gen Sarath Fonseka.
The opposition denies there is any plot and says the government has launched a witch hunt.
Gen Fonseka and President Rajapaksa were close allies during the defeat of the separatist Tamil Tigers last May, but later fell out.
'Unclean' vote
The BBC's Charles Haviland in Colombo says Wednesday's demonstration was much bigger than rallies usually seen in the capital.
Holding banners in Sinhala, Tamil and English, opposition supporters thronged a network of streets in the city centre.
They shouted that the election was "unclean" and would have been won by Gen Fonseka, but for what they allege was computer rigging.
The crowd also condemned what they said was a government clampdown on media freedoms.
The police kept a low profile as the crowd surged to a park where a mixed line-up of opposition leaders addressed them.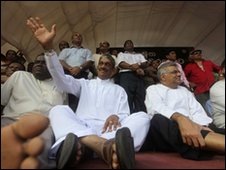 Gen Fonseka told those present that Mr Rajapaksa had "stolen" their right to elect the country's leader.
"The president is not behaving like someone who has won the election with such a big majority," said Gen Fonseka, the Associated Press reports.
"His actions and his retribution on opponents suggests that he is nervous."
Our correspondent says the opposition leaders' problem is that they have not proved that cheating was on a scale to change the result.
Local monitoring groups have not challenged the overall result either.
Earlier, Election Commissioner Dayananda Dissanayake told reporters that he stood by the election result but was not happy with the way the government side had used state property during the campaign.
(For updates you can share with your friends, follow TNN on Facebook, Twitter and Google+)