Ki'linochchi to Paranthan: no human beings, ghost buildings, stray cattle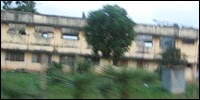 A video footage taken a few days back, while travelling between Ki'linochchi and Paranthan, shows the real situation in the heartland of Vanni in Tamil Eelam. The tract bustling with contended people two years back is virtually a no-man zone with ghost buildings and stray cattle today. The landscape is physical evidence to the genocide committed on a nation. The parties responsible for one of the worst crimes against humanity in the 21st century such as this, refuse to accept it, but hide it, coerce the victims not to talk about it and in various nuanced ways want to finish the genocide to its end, is the feeling of Eezham Tamils, both in the island and in the diaspora.
The rhetoric of resettlement, rehabilitation, reconstruction and development only mean naive agenda of genocide, unless preceded by political formula restoring the sovereignty of the people concerned and the ouster of occupying forces, Tamil circles said.
Some governments, instead of mobilising appropriate international remedy, believing in carrying out their own programmes in Tamil Eelam through a government democratically rejected by the concerned people in the recent presidential elections, show only their disrespect to democracy and their tendency to promote a dangerous world order, Tamil circles further said.
The following video is taken in January 2010 by a traveller on the A9 Highway between Ki'linochchi and Paranthan:
(For updates you can share with your friends, follow TNN on Facebook, Twitter and Google+)