Boyle's book added to World Court library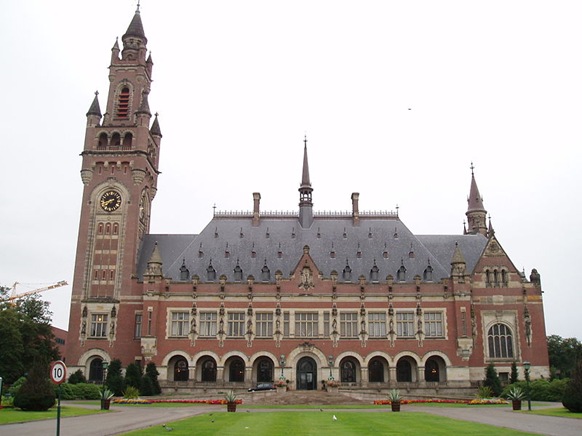 The Peace Palace Library (PPL), the main library of the World Court, the popular name for the International Court of Justice (ICJ), has acquired "The Tamil genocide by Sri Lanka," a recent publication by Clarity press authored by Francis A. Boyle, professor of International Law at University of Illinois College of Law, Marianne Brouwer, principal catalog librarian for the PPL, confirmed. "The book has made it to the World Court. Now we just need to file the lawsuit [against Sri Lanka for Genocide/war-crimes]," commented Boyle.
The International Court of Justice acts as a world court. The Court has a dual jurisdiction: it decides, in accordance with international law, disputes of a legal nature that are submitted to it by States (jurisdiction in contentious cases); and it gives advisory opinions on legal questions at the request of the organs of the United Nations or specialized agencies authorized to make such a request (advisory jurisdiction).
"The huge building is called the Peace Palace, donated by Andrew Carnegie to house the Permanent Court of Arbitration (PCA), established at the First Hague Peace Conference in 1898. When the Permanent Court of International Justice was founded in 1921, it moved in to take over the Grand Courtroom there since everyone had assumed it would supplant the PCA, though the PCA still survives today," Boyle said of the history of the World Court.
"I joined their library at the time I became Bosnia's Ambassador to the ICJ in 1993. The Registrar took me down to get enrolled. The entire complex is still owned by the Carnegie Endowment and leased to the UN. All is explained in my book Foundations of World Order (Duke U Press: 1999)," Boyle told TamilNet.
"When I showed up on a Saturday to file Bosnia's World Court lawsuit for genocide, the Registrar told me he would have to track down the facilities-guard for the Carnegie Center in order to open the place up and receive my Application. It took him a while to do that in The Sleepy Hague on a Saturday," Boyle recounted his early days of his fight for Bosnia in the World Court.
External Links:
PPL:
The Tamil genocide by Sri Lanka
(For updates you can share with your friends, follow TNN on Facebook, Twitter and Google+)