Gen. Fonseka to be hauled before military court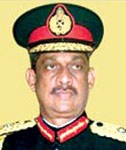 A Military Court will try retired General Sarath Fonseka on several charges of conspiracy, the Sunday Times learns. Such charges are to include an attempt to overthrow the Government and assassinate President Mahinda Rajapaksa.
This new move, as against indicting him under the normal laws of the land, came after the CID consulted Attorney General Mohan Peiris, an authoritative legal source said yesterday.
Criminal Investigations Department (CID) detectives allege that the actions of Gen. (retd.) Fonseka on the main subjects of their inquiry had their origins when he was serving as Commander of the Army. Besides allegations relating to conspiracy, they claim, that this included deals where his son-in-law reportedly benefited by way of large commissions for supplying military ware.
Gen. (retd.) Fonseka has denied any wrongdoing and has accused the Government of "taking revenge" on him. CID detectives are to question his son-in-law Danuna Tillekeratne in the coming week.
Last week, the Sunday Times reported exclusively that the arrest of Gen. Fonseka was imminent. The new turn of events, arraigning him before a Military Court, has delayed the process. However, the source said, he was still liable to arrest anytime after "the required legal procedures are in place." Like in civil courts, all evidence will be admissible before the Military Court, the source pointed out.
However, the conduct of proceedings in a Military Court, the source said, would not be open to the media. Military Courts are legally empowered to confer death or jail sentences on those found guilty.
"CID detectives have already taken into custody 36 persons during the ongoing investigations. This week, they arrested the Cinnamon Lakeside Hotel's Security Manager Ranjit Dayaratne. Investgators say that the manager, a retired Major in the Army, claimed that he was the one who had switched off the surveillance cameras at the hotel where more than 70 rooms had been rented to retired General Fonseka and his entourage on election night.
(For updates you can share with your friends, follow TNN on Facebook, Twitter and Google+)