Illegal dealers jailed over weapons sold to Sri Lanka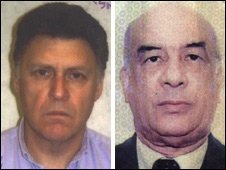 Two arms dealers who illegally supplied bombs, armour-piercing ammunition and other weapons to Sri Lanka's military and Israel have been jailed.
Gideon Sarig, 58, of west London, was jailed for nine years while 64-year-old Howard Freckleton, of north London, was sentenced to seven years.
Sarig and Freckleton were found guilty of trading in controlled goods with intent to evade prohibition.
Weapons sold to Sri Lanka in 2005 were used in the civil war, jurors heard.
Both Sarig, of Maida Vale, and Freckleton, of Enfield, had denied the charges.
Sentencing at Southwark Crown Court Judge James Wadsworth QC said the men had knowingly traded in "large amounts of ammunition for totally war-like, destructive and death-dealing use" without a UK licence.
'No remorse'
He said: "You both knew exactly what you were doing.
"Each of you exercised what is your undoubted right to fight this case to the full, but by doing that you have, of course, removed from me the opportunity of giving you any proper credit in your sentence as a result of regret, remorse, or even acceptance of your guilt."
The self-employed arms dealers sold 1,000 bombs from the Ukraine to the Sri Lankan Army in 2005 and 3,900 rounds of 30mm armour-piercing incendiary ammunition from Serbia and Montenegro to Sri Lanka between February 2005 and May 2006.
The weapons were used in Sri Lanka's "long, protracted and bloody civil war" with the Tamil Tigers, the jury heard.
Sarig, a UK national with joint Israeli-British citizenship, was also found guilty of trading 391 pump-action shotguns from Turkey to Israel, Venezuela and Burkina Faso, and 1,000 anti-riot shields from Turkey to Israel.
But he was cleared of another charge of supplying 1,000 semi-automatic pistols and ammunition to Venezuela and Sri Lanka.
(For updates you can share with your friends, follow TNN on Facebook, Twitter and Google+)