Arrested Sri Lankan opposition leader being treated 'like an animal'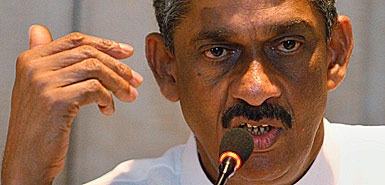 The wife of General Sarath Fonseka, the former Sri Lankan army chief who was arrested last night on suspicion of plotting a coup, accused the Government today of abducting her husband and treating him "like an animal".
She also accused President Rajapksa of waging a vendetta against the General, who led the army to victory over the Tamil Tigers last year, for daring to challenge him in a presidential election last month.
"This is not an arrest. It is an abduction," a tearful Anoma Fonseka told a news conference at her home in Colombo, the capital.
General Fonseka was arrested by military police at his campaign office last night and is now facing trial in a military court.
The charges against him include plotting a coup against Mr Rajapaksa, who won the presidential poll on January 26 after a bruising campaign marred by widespread abuse of state media.
Mrs Fonseka complained that her 59-year-old husband had been "dragged out and treated like an animal" by the soldiers after he objected to being arrested by military rather than civilian police.
"We always knew that the Government will try to arrest my husband, but we never thought they would do it in such a disgusting manner," she said through sobs.
"Is this the gratitude for a General who ended terrorism?"
Both the General and President Rajapaksa were hailed as national heroes by the Sinhalese ethnic majority after the defeat of the Tigers in May ended a 26-year civil war.
But they fell out when the General was shifted to the powerless post of Chief of Defence Staff in July. He resigned in November and declared his presidential candidacy the following month.
Mr Rajapaksa won the presidential election easily, but General Fonseka has refused to accept the result and vowed to challenge him in the Supreme Court and in parliamentary polls due by April.
One of the General's many complaints was that the Government tried to intimidate him by deployng hundreds of army troops around the luxury hotel where he was staying as votes were being counted.
The army said at the time that the General was holed up inside with 400 men, including armed army deserters, but journalists and tourists inside saw no evidence of such an entourage.
Mrs Fonseka said: "They are accusing him of trying to stage a coup on the day of the election. Our two children and I were with him on that day. There was no coup. This is nonsense."
She said the authorities had yet to formally inform her of her husband's arrest, and voiced concern over whether he was receiving medication he needs after surviving a suicide bomb attack by the Tigers in April 2006.
"Please help me. I need to know where he is so that I can at least give him his medicine. He has already missed last night's dose," she said. "What I want to tell the Government is: 'Just be reasonable. Treat him like a human being.'"
Major General Prasad Samarasinghe, a military spokesman, denied that General Fonseka was now cut off from family or friends.
(For updates you can share with your friends, follow TNN on Facebook, Twitter and Google+)