Leaderless Sri Lankan opposition faces uphill task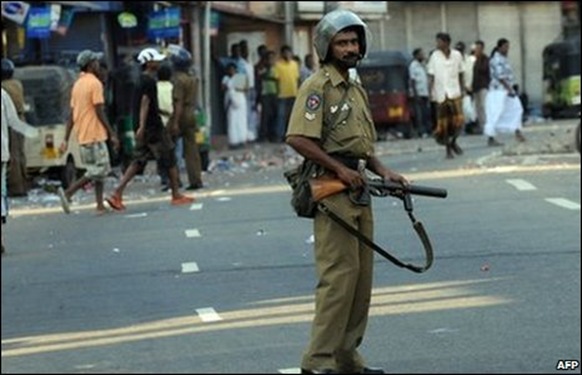 With parliament dissolved, Sri Lanka must hold a general election by April. The opposition is now in huge difficulties, with its one recent figurehead incarcerated.
The security forces' dramatic removal of Gen Sarath Fonseka from his office building late at night – dragged by his hands and feet, according to eyewitnesses, by dozens of men – has raised still further the political temperature on the island.
So why has the government taken this drastic action?
The charges it has mentioned concern allegations that he dabbled in politics while still head of the army and the armed forces, before his retirement last November.
More ammunition
It is not just politics – other senior uniformed figures have come out in support of President Rajapaksa and got away with it – but in the words of defence spokesman Keheliya Rambukwella, having dealings with party leaders "working against the government".
Here there is a suggestion of plotting and also, as it was put by another defence official, Lakshman Hulugalle, of simply violating the military code of conduct.
Both men have also spoken of his "dividing" the army by canvassing for political support within it – but it is not clear whether there is a law against that.
They say he remains under military jurisdiction for six months after retiring and so may be subjected to a court martial.
But the government has more ammunition against Sarath Fonseka.
It says he and his supporters were engaged in both an assassination plot and a coup plot and that these are being probed under civilian law.
So even if one set of charges falls through, there are others waiting in wings.
Gen Fonseka and his opposition colleagues deny all this.
But there is more still. The government had already been incensed by Gen Fonseka's appearing to suggest, in December, that Defence Secretary Gotabhaya Rajapaksa might have been implicated in possible war crimes at the end of the conflict against the Tamil Tigers.
Then, just hours before his arrest, the general said he was prepared to give evidence in an international court on any war crime charges against the state.
'Stolen election'
The government has savaged these remarks, saying the former army chief was "hell-bent" on betraying the country's "gallant armed forces".
Some observers point out that the general himself could be implicated in war crimes, given that he was army chief at the time.
Having him away from the public eye at the moment will also do the government a political favour.
It will make it harder for him to mount the legal challenge to the election result that he has vowed, claiming the whole election was stolen from him by rigging.
Such widespread fraud seems unlikely, many analysts believe, given the margin of victory.
Having said that, it is not clear whether the dour general could really have continued to bring the opposition together.
This fractious group of parties was already breaking up and forming new sub-alliances. They now say there will be protests.
But will Sri Lankans as a whole take to the streets in support of the general? He won 40% of the electoral vote but many voted for him for negative reasons – their desire to see the back of the Rajapaksas.
Whatever the opposition does, though, there is the gloomy prospect of a new chasm across the political scene here, nearly nine months after Tamil Tiger rebels were vanquished.
The government seems to be lining up in its sights a whole new raft of people it regards as its enemies and against whom it might deploy the continuing emergency regulations.
It had already arrested dozens of people who had worked for Gen Fonseka's campaign, many of them former military officers.
More detentions are in the pipeline. It is clamping down on the media, blocking websites it does not like and detaining an editor, while state television employees have been sacked or suspended for questioning its editorial line.
'Fissures'
So how will this all affect people's views of a government that is acutely sensitive about its image internationally and that has recently hired a British public relations firm to help in that regard?
Many Sri Lankans may not care very much. They did re-elect Mr Rajapaksa convincingly and have got used to seeing his image emblazoned all over the country with adoring slogans, something that is rarely questioned.
Yet the manner of Gen Fonseka's arrest (his allies do not accept the term and call it an "abduction") and other recent episodes, such as the massive special forces cordon deployed at the general's post-election hotel, will not ease tensions between the government and its domestic critics, on the one hand, and the international community, on the other.
A US state department official said the latest incident might worsen divisions and that the government should in fact be working "to overcome the fissures that exist within its society".
And civil society groups are saying that this is increasingly a government that brooks no dissent.
Meanwhile, the irrepressible President Rajapaksa will have been glad that the operation to arrest the general was timed to coincide with his own dignified absence from the scene. He was away on a visit to Russia.
BBC News – Leaderless Sri Lankan opposition faces uphill task
(For updates you can share with your friends, follow TNN on Facebook, Twitter and Google+)