Rajapaksa's political rival humiliated, but at what cost?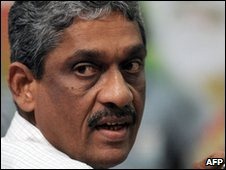 By arresting his former army chief and electoral opponent in Sri Lanka, President Rajapaksa appears to be trying to neutralise the threat of a coup. The paradox is that his heavy-handed tactics risk provoking one.
General Sarath Fonseka has been utterly humiliated since he lost in the presidential election last month: he has even been stripped of the security detail that protected him from attacks by former Tamil Tigers.
However, he is still widely admired within the 200,000-strong armed forces, drawn from the ethnic Sinhalese majority, for his no-nonsense style of leadership during the victorious campaign over the Tigers last year.
Although his supporters in the army top brass have almost all been replaced, he remains hugely popular among the rank and file. He also has powerful friends overseas. Whether they are able, or willing, to do anything to help him is another question.
Sri Lanka has no history of coups and a long tradition of parliamentary democracy, dating back to the introduction of universal suffrage in 1931, 17 years before the country's independence from Britain.
Mr Rajapaksa has tried to pre-empt the threat of a military putsch through the biggest purge of the army in Sri Lanka's history and stifling support for General Fonseka in the media.
So far, on balance, it looks as though he has succeeded, but only at immense cost to Sri Lanka's democratic credentials. Much will now depend on how General Fonseka is treated by the military court that will try him.
A death sentence, or a long prison term, would send a strong message to any other potential political challengers, but it could also galvanise opposition within the armed forces and the political elite.
(For updates you can share with your friends, follow TNN on Facebook, Twitter and Google+)