Sri Lanka President Rajapaksa dissolves parliament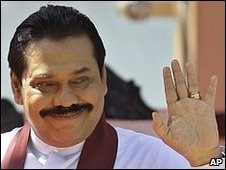 Sri Lanka's recently re-elected President Mahinda Rajapaksa is dissolving parliament, clearing the way for early elections, officials say.
Parliament will be dissolved from midnight and the elections commissioner will decide the date of the poll.
Mr Rajapaksa won a second term in office by a large margin last month, but the outcome was rejected by his main rival, Gen Sarath Fonseka.
Gen Fonseka was detained by security forces on Monday.
Opposition politicians say the government is engaged in a witch-hunt and have called for protests on Wednesday against the arrest.
Bitter campaign
The elections for Sri Lanka's parliament were scheduled to be held by April.
Analysts say President Rajapaksa is hoping to capitalise on his presidential election victory in January by increasing the number of seats held in parliament by his Freedom Alliance.
Mr Rajapaksa fought the presidential poll on the back of the government's successful military campaign to end the long insurgency by Tamil Tiger rebels in the north and east of the country.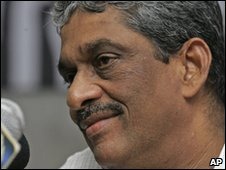 His rival, Gen Fonseka, also claimed credit for ending the civil war last year.
They fell out soon after the fighting ended and fought a bitter election campaign.
Gen Fonseka was arrested at his office on Monday.
He was discussing the parliamentary election with supporters at the time. They say the arrest is an attempt to prevent his involvement.
The Sri Lankan government denies this. The defence ministry said Gen Fonseka was arrested for breaking military regulations by holding discussions with politicians while serving on the national security council.
Gen Fonseka's wife Anoma says she has not been allowed to see her husband since the arrest.
(For updates you can share with your friends, follow TNN on Facebook, Twitter and Google+)