Sri Lanka clashes erupt over former army chief's arrest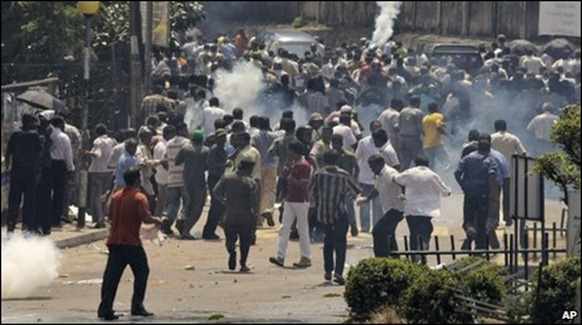 Government supporters and thousands of opposition activists have clashed in the Sri Lankan capital, Colombo.
At least eight people were hurt in the violence near the Supreme Court, officials said. Police fired tear gas to disperse the crowds.
The opposition is angry at the arrest of losing presidential candidate, Gen Sarath Fonseka, on Monday night.
He is to be court-martialled for working with "anti-government forces", officials say. He denies the charges.
The protests came a day after President Mahinda Rajapaksa dissolved parliament, paving the way for elections by April.
Correspondents say he hopes to capitalise on his comfortable win against the former army chief in the January poll.
'Thugs'
The opposition rally near the Supreme Court is the second mass demonstration to be held in the capital in the space of a week.
An eyewitness told the BBC that about 50 supporters of President Rajapaksa had confronted opposition supporters and attacked them with stones and bottles.
The BBC's Charles Haviland in Colombo says opposition activists ran away and then returned attacking in their turn – whereupon the police used tear gas to drive people away.
Fonseka supporters said "government thugs" had attacked a peaceful protest.
"They stoned us and attacked with clubs and even threw glass bottles at us in front of the police," one woman told Reuters news agency.
Earlier, Gen Fonseka's wife, Anoma, was allowed to visit him in detention at navy headquarters.
She has now filed a petition at the Supreme Court claiming his arrest is illegal. It will be heard on Friday.
Mrs Fonseka has named as respondents the defence secretary, the new army chief and the senior officer present on Monday night when her husband was forcibly dragged into detention, our correspondent says.
'Evidence'
In a joint statement, the opposition parties have said they fear Gen Fonseka may be killed in detention.
A government spokesman has been reported as saying there is tangible evidence to back up the authorities' allegations against the general, which include the accusation that he worked with politicians against the government while still in the forces.
He denies all wrongdoing.
Mr Rajapaksa easily defeated Gen Fonseka in elections last month, but the general rejected the outcome.
(For updates you can share with your friends, follow TNN on Facebook, Twitter and Google+)