Sri Lanka's opposition fears for Fonseka's life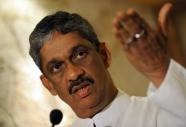 Sri Lanka's opposition parties demanded Wednesday the immediate release of former army chief and defeated presidential candidate Sarath Fonseka, warning that he faced "assassination" in custody.
In a joint statement, the parties which had backed Fonseka's failed challenge to President Mahinda Rajapakse in January elections, said they feared for the retired four-star general's life following his arrest.
"We have good reason to believe that the extra-judicial arrest of General Fonseka may be followed up with assassination while in custody," the statement said.
Fonseka was taken into custody by military police on Monday night. The defence ministry says he will be court-martialled on charges of conspiring against the government while serving as head of the army.
Fonseka's family had been told Tuesday evening that he was being held at the naval headquarters in Colombo. His wife and a lawyer were allowed to visit him.
Fonseka quit the military in November after falling out with Rajapakse and went on to challenge his former commander-in-chief at the ballot box.
Shortly after the January 26 vote, which Rajapakse won comfortably, the government accused Fonseka of plotting a coup to overthrow the president and assassinate members of his family.
And earlier this month, Rajapakse sacked a dozen senior military officers described by the defence ministry as a threat to national security. More were arrested from Fonseka's office.
UN spokesman Martin Nesirky said Secretary General Ban Ki-moon was "following developments in Sri Lanka with concern" and urged Colombo "to follow due process of law and provide all necessary protection and guarantees to (Fonseka's) safety."
Nesirky said Ban planned to speak with President Rajapakse about the case.
The Sri Lankan government is concerned about Fonseka's apparent willingness to testify at any probe into alleged war crimes committed by Sri Lankan troops last year in the final stages of the conflict with Tamil Tiger rebels.
(For updates you can share with your friends, follow TNN on Facebook, Twitter and Google+)