Amid Tear Gas, UN Lets Stand Sri Lanka Claim of Its Congratulations, UN's "Good Journalism" Guide
As in Sri Lanka the Rajapaksa administration deploys tear gas against those protesting its arrest of Sarath Fonseka, in New York Inner City Press asked if the UN had any comment. Video here, from Minute 8:46.
UN spokesman Martin Nesirky reiterated his version of Secretary General Ban Ki-moon's telephone call to Mahinda Rajapaksa. But then did the UN or Mr. Ban, Inner City Press asked, take issue with the Sri Lankan government's press release about the call, that it involved Ban congratulating Mahinda Rajapaka, without any mention of the arrest of Fonseka or the tear gassing of his supporters? Video here, from Minute 8:46.
"Governments will characterize… as they see fit," Nesirky said.
But what if the press coverage adopts the government's version of the call, and the UN is portrayed as totally (and not just partially) in bed with human rights abuses?
  Inner City Press mentioned instances where the UN, even under Ban, has taken issue with statements by governments, of Sudan and Zimbabwe for example. So does the silence now mean the UN and Ban are satisfied with the Rajapaksas' summary?
"That's not what I said, don't put words in my mouth," Nesirky protested. Video here, from Minute 10:44.
Another journalist asked Nesirky for a more "philosophical" response about when governments mis-use their communications or even photo ops with the UN.
"I am not a philosopher," Nesirky. He then returned to the Sri Lanka issue, saying that "the coverage was rather balanced," including both the read out of the Secretary General and the government. Mr. Nesirky said pointedly, "That's what good journalists do." Video here, from Minute 12:40.
Leaving aside the question of whether the UN and its spokesman should be opining on what and how journalists should report, it seems strange for anyone to equate "good journalism" with merely presenting side by side the UN's version and the government's version, that Ban congratulated Rajapaksa while he cracked down on his opponents and the independent press. Does that mean both versions are equally true?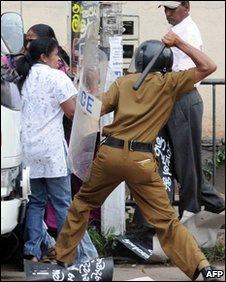 It is a win – win situation then. Ban can say he spoke about due process, and Mahinda Rajapaksa can say he was congratulated by the UN while cracking down on his opponents. Each side gets what it wants. Could this be Ban's UN kabuki theater?
Footnotes: Ban's versions is that he called for due process. But after the call, presidential brother and Defense Secretary Gotabhaya Rajapaksa said that Fonseka "is guilty" of treason, predicting a five year sentence. When the president's brother declares a person guilty before any trial or even showing of evidence, it doesn't sound like "good" due process. Will the UN have anything to say?
Again, on both February 8 and 9, Inner City Press asked Ban's spokesman Martin Nesirky if Vijay Nambiar is, officially or de facto, now in charge of the UN's Sri Lanka policy, given reports that calls from the Rajapaksa administration to Mr. Ban were referred to Mr. Nambiar. (It concerned trying to cancel a UN press conference by Philip Alston, about summary executions by the Sri Lankan army.)
(For updates you can share with your friends, follow TNN on Facebook, Twitter and Google+)