Defeated Sri Lankan candidate Sarath Fonseka urges calm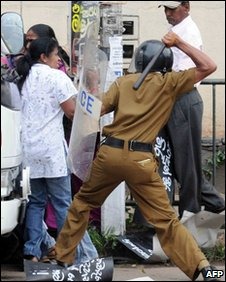 Defeated Sri Lankan presidential candidate Sarath Fonseka is appealing for calm, his wife has announced.
He made the plea through her after more violent clashes on Thursday linked to his arrest on conspiracy charges.
Anoma Fonseka was granted access to her husband at the naval detention centre where he is awaiting a court martial for conspiring against the government.
The general was arrested on Monday for working with "anti-government forces". He has strongly denied the allegations.
Meanwhile, UN Secretary-General Ban Ki-moon has discussed the arrest with President Rajapaksa and expressed concern about events in the country, a UN statement said.
Lynn Pascoe, head of the UN's political department, is to visit the island this month, it added.
'Fear for his life'
Mrs Fonseka was speaking as police used batons and tear gas for a second consecutive day against protesters demanding her husband's immediate release.
"He wanted me to convey to the people and especially the troops to remain calm and not to be provoked by his illegal arrest," said Mrs Fonseka, who met her detained husband late on Wednesday.
"They are trying to break his spirit, but they won't succeed."
Mrs Fonseka said that her husband had been denied visits by the personal doctor who had treated him regularly for injuries received in a suicide bombing in April 2006.
"I fear for my husband's life," she said, pointing out that shrapnel lodged close to his heart and kidneys needed to be monitored.
She also denied that he had engaged in politics while serving in the military: "Definitely 100% I can assure it. After he removed the uniform, he came to the politics."
The government has not detailed what charges Gen Fonseka will face, but Defence Secretary Gotabhaya Rajapakse has alleged that he had "clearly been plotting a military coup".
Gen Fonseka was removed as the head of the army in July and appointed chief of defence staff with no command responsibility. He resigned from the post in November and announced his intention to run for president.
He was beaten comfortably in the vote, with President Rajapaksa winning two million more votes than him.
Presidential power
Human rights groups have expressed disquiet at his arrest.
On Thursday the Hong Kong-based Asian Human Rights Commission warned that Gen Fonseka was being deprived of "due process" because his case was being handled in a military rather than a civilian court.
Meanwhile Sri Lanka's minister of information has said he is quitting – and expects President Rajapaksa to replace him.
Anura Yapa told the BBC that "most probably" the president would take over the ministerial portfolio himself.
The opposition say that the move is another worrying expansion of presidential power. The president already doubles up as defence minister and finance minister.
(For updates you can share with your friends, follow TNN on Facebook, Twitter and Google+)