Sri Lanka president pledges due process for rival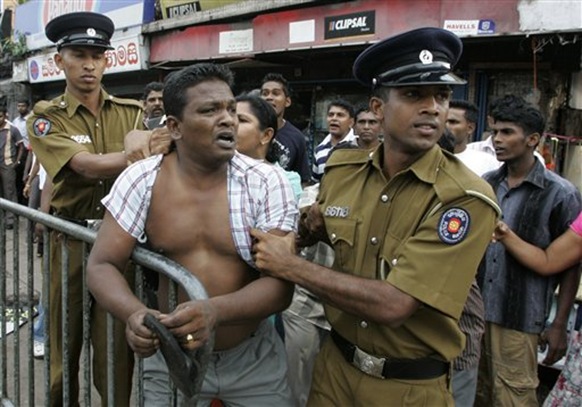 Sri Lanka's president promised to follow due process in the sedition investigation of the defeated presidential candidate and ex-army chief whose arrest has pushed the island nation into political turmoil.
President Mahinda Rajapaksa assured a key opposition leader in a meeting Friday that the "rule of law must prevail" and the arrested general will be freed if the allegations against him are not proven, according to a statement on the president's Web site.
Military police arrested Gen. Sarath Fonseka last Monday on sedition charges. The government initially said Fonseka was "plotting against the president while in the military … with the idea of overthrowing the government."
Later, the government added more accusations, saying Fonseka's reported call for the prosecution of anyone who committed war crimes during the country's civil war showed he was "hell-bent on betraying the gallant armed forces of Sri Lanka."
Rajapaksa and Fonseka were close allies in the government's victory last year against Tamil Tiger rebels, who fought 25 years for independence. But after a fallout, Fonseka resigned and contested a bitter presidential election, losing to Rajapaksa by 17 percentage points.
The Supreme Court decided Friday to allow Fonseka to appeal his detention on Feb. 23. Ranil Wickremesinghe, an opposition leader, said the president told him in their meeting Friday that future steps in the case will follow the court's decision.
Wickremesinghe said in a statement said he asked Rajapaksa to immediately release Fonseka.
The opposition has called Fonseka's arrest illegal and an act of political vengeance, and has threatened countrywide protests until he is released. Pro-government groups have also said they will hit the streets.
On Wednesday, police fired tear gas and used water cannons to disperse thousands of opposition supporters gathered outside the Supreme Court to demand Fonseka's freedom after clashes with scores of pro-government demonstrators.
On Thursday, the U.S. Embassy called on the government to respect the rights of those who supported the opposition in the election, following reports that scores of opposition activists had been detained, harassed or pressured. Media rights groups rank Sri Lanka among the most dangerous places in the world for dissenting journalists.
(For updates you can share with your friends, follow TNN on Facebook, Twitter and Google+)