S.Lanka lawyers criticise government over crackdown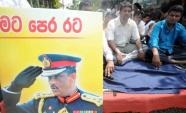 Lawyers in Sri Lanka accused the government Monday of illegally suppressing protests at the arrest of former army chief Sarath Fonseka.
Thousands of people taking part in peaceful protests have been attacked by pro-government supporters despite the presence of armed police, the independent Lawyers for Democracy said in a statement.
"We were shocked to witness that protesters were first attacked by hooligans and thugs who were provided protection by the police. Subsequently the same peaceful protesters were beaten by the police," the lawyers said.
Thousands took to the streets to protest against the arrest of Fonseka, who lost a January 26 presidential election to the incumbent Mahinda Rajapakse.
Smaller protests were continuing on Monday.
Two weeks after the election, Fonseka was arrested for plotting a coup when he was army chief.
The lawyers said peoples' right to protest and expression guaranteed by the constitution were "severely undermined by the law enforcement authorities and supporters of the government".
(For updates you can share with your friends, follow TNN on Facebook, Twitter and Google+)