S.Lanka opposition file court challenge to premier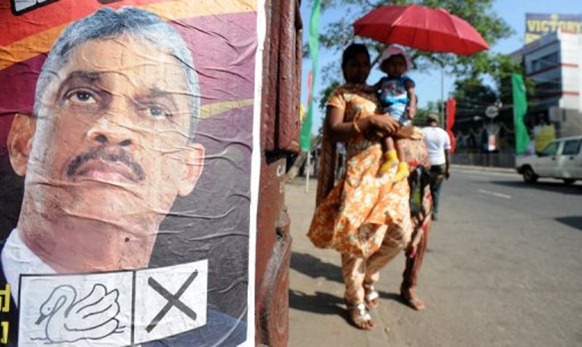 Sri Lanka's former army chief and defeated presidential candidate Sarath Fonseka on Tuesday petitioned the Supreme Court challenging incumbent Mahinda Rajapakse's re-election, his lawyer said.
Fonseka, who lost a January 26 vote, alleged that he was robbed of victory because of rigging, electoral malpractice and undue influence on the 14 million electorate, lawyer Wijeyadasa Rajapakshe told AFP.
"We are presenting a 40-page complaint to the Supreme Court on bribery, corruption, the use of undue influence and vote rigging at the election," Rajapakshe said.
Fonseka received 40.15 percent of the popular vote compared to 57.88 for Rajapakse at an election many had expected to be a close fight. Two weeks after his defeat, Fonseka was arrested and placed in indefinite detention.
Rajapakshe said he had earlier obtained permission from the Supreme Court for Fonseka to sign his election petition while he was being held by the military pending court martial proceedings on unspecified charges.
The country's defence secretary, Gotabhaya Rajapakse, who is the president's younger brother, has said that Fonseka was plotting a coup, a charge rejected by the ex-army chief.
Fonseka's arrest has sparked protests and an outcry abroad with the United States, the European Union and the United Nations expressing concern that democracy should not be undermined in a country emerging from a 37-year-old separatist war.
Leaders of Sri Lanka's influential Buddhist clergy have scheduled a meeting Thursday to press their demand for the immediate release of Fonseka, the country's only four-star general who served in the military.
Top monks of all key sects as well as the guardians of the island's holiest shrine, the Temple of The Tooth, have made a joint appeal to the President to free Fonseka who is mounting a separate legal challenge over his arrest.
Fonseka was the battlefield architect of the government's victory over Tamil Tiger rebels last May, which ended their 37-year old fight for an independent Tamil homeland that cost an estimated 80,000-100,000 lives.
However, he fell out with Rajapakse and quit in November and ran against the president in January's elections.
(For updates you can share with your friends, follow TNN on Facebook, Twitter and Google+)