Sri Lanka slams EU on cutting trade benefits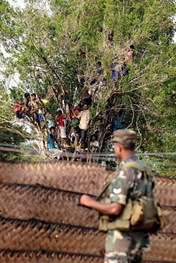 Sri Lanka criticised Tuesday a decision by European Union nations to withdraw preferential trade benefits from Sri Lanka if it failed to respect human rights obligations.
The decision Monday came after an "exhaustive" investigation "identified significant shortcomings" by the island nation in implementing UN human rights conventions, the EU Commission said.
Sri Lanka's foreign ministry said the European Union had set "unattainable targets" for the island to avoid withdrawal of trade benefits.
The EU has said suspension of the GSP+ (Generalised System of Preferences plus) benefits will not take effect for six months "giving Sri Lanka extra time to address the problems identified."
The EU wants Sri Lanka to implement within six months laws aimed at ensuring the independence of the judiciary, the police, the civil service and the elections department and ensure that minimum human rights standards are met.
Sri Lanka's foreign ministry said it will continue its dialogue with the Commission, but said discussions should be "sensitive" to the island's sovereignty.
Colombo maintains that any probe of its rights record will be a violation of its sovereignty.
The GSP+ scheme gives 16 poor nations preferential access to the trading bloc in return for following strict commitments on a wide variety of social and rights issues.
Sri Lankan troops have been accused of a host of rights violations including the indiscriminate killing of thousands of Tamil civilians, the murder of aid workers and the execution of surrendering rebels.
The Tiger rebels faced similar charges, but the guerrilla leadership was killed by government forces in May last year when they crushed the insurgency.
Sri Lanka gains about 150 million dollars annually due to preferential tariffs, which mainly benefit the clothing industry, according to trade estimates.
(For updates you can share with your friends, follow TNN on Facebook, Twitter and Google+)