S.Lanka frees coup suspects linked to ex-army chief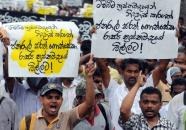 A court in Sri Lanka on Wednesday freed 14 men held on suspicion of plotting a coup with opposition leader and ex-army chief Sarath Fonseka, an official said.
Colombo Magistrate Champa Rajaratne released the men, including 10 retired army officers, as police had failed to indict them since their arrest on charges of a conspiracy after Fonseka lost last month's presidential vote.
"She (the magistrate) ordered their immediate release because police failed to come up with any evidence although they were arrested on suspicion of planning a coup," a court official told AFP.
The men had been working at Fonseka's campaign office from where the ex-army chief was also arrested by the military on February 8.
The government has accused Fonseka of plotting a coup and says he faces being court-martialled, although he has yet to be charged.
Fonseka, who is being held at the naval headquarters in Colombo, petitioned the Supreme Court on Tuesday challenging incumbent Mahinda Rajapakse's re-election.
He alleged that vote-rigging, electoral malpractice and undue influence on the 14 million strong electorate robbed him of election victory, his lawyer Wijeyadasa Rajapakshe said.
The country's defence secretary, Gotabhaya Rajapakse, who is the president's brother, has said that Fonseka was plotting a coup, a charge rejected by the ex-army chief.
Fonseka's arrest has sparked protests and an outcry abroad with the United States, the European Union and the United Nations expressing concern that democracy should not be undermined in a country emerging from a 37-year-old separatist war.
Fonseka was the battlefield architect of the government's victory over Tamil Tiger rebels last May, which ended their drawn out fight for an independent Tamil homeland that cost an estimated 80,000-100,000 lives.
However, he fell out with Rajapakse and quit in November and ran against the president in January's elections.
(For updates you can share with your friends, follow TNN on Facebook, Twitter and Google+)