Missing Sri Lanka journalist's wife appeals for help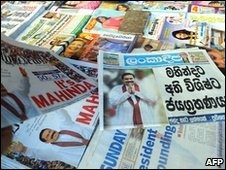 The wife of a Sri Lankan journalist who disappeared mysteriously almost a month ago has appealed to the authorities to do more to find him.
Prageeth Eknaligoda, who wrote for a news website that carried dissenting views, went missing two days before the presidential election last month.
The website shut itself down after police searched its premises.
Media rights groups say Sri Lanka is one of the most dangerous places for journalists to work.
Prageeth Eknaligoda, a father of two sons, wrote for Lankaenews.com website.
'No headway'
His colleagues say during the presidential election campaign, Mr Eknaligoda wrote articles in favour of the defeated opposition candidate, Gen Sarath Fonseka.
The wife of the journalist, Sandhya Eknaligoda, says her family is now really worried about his safety as an investigation into his disappearance has made no headway.
A few days ago, she also filed a petition in a court seeking judicial intervention to find her husband's whereabouts.
Mr Eknaligoda's colleagues believe that the pro-government supporters may be responsible for his disappearance.
The government denies the allegation.
A police spokesman told the BBC that there had been some progress in the investigation.
Earlier this week an editor of a Sri Lankan newspaper was released after 18 days in detention under the country's emergency regulations.
Chandana Sirimalwatte, who is supportive of the opposition JVP, says he was released without any charges.
Media rights groups accuse the authorities of intimidating and harassing journalists critical of the government's policies.
Official figures show that nine journalists have been killed and more than 25 assaulted in the past four years in Sri Lanka.
(For updates you can share with your friends, follow TNN on Facebook, Twitter and Google+)