Rise of Sri Lankan President's son Namal Rajapaksa sparks concern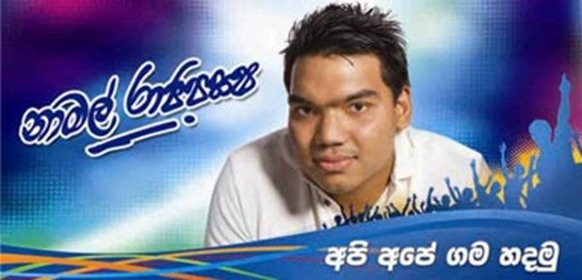 Jeremy Page, South Asia Correspondent
Modesty is apparently not a strong point for Namal Rajapaksa, the 23-year-old son of the Sri Lankan President – and scion of Asia's newest political dynasty.
His web site says: "A future leader with a friendly spirit and possessing good values is what comes to mind when meeting the dashing and smashing, young Namal Rajapaksa."
No matter that the keen rugby player only achieved a third class law degree when he graduated from London's City University in September.
Namal clearly plans to follow the footsteps of his father, Mahinda, who was an MP at 24, and defeated his former army chief, Sarath Fonseka, in a presidential election last month.
Last week — following General Foneka's arrest — Namal was accepted by his father's party as a candidate in parliamentary elections on April 8, joining dozens of other relatives in government and politics.
There are even rumours that he could take over the politically powerful position of Custodian of the Temple of the Tooth – Sri Lanka's holiest Buddhist shrine.
Namal's meteoric rise was hailed last week in a eulogy on the official government news portal, entitled "The Doctrine of Namal Rajapaksa – Activism and Positivism in Politics".
For most Sri Lankans, it came as no surprise: Namal campaigned alongside his father and used an NGO he runs to fund a lavish television advertising campaign promoting the incumbent.
For many, however, his political debut — and the personality cult surrounding it — are worrying indications of the demise of South Asia's oldest democracy.
Over the last fortnight, international concern has focused on the arrest of General Fonseka, who led the army to defeat the Tamil Tiger rebels last year, on charges of plotting a coup.
But equally troubling is the Rajapaksa clan's ever-tightening grip on power — especially if the ruling coalition wins a two-thirds majority in April, allowing it to change the constitution.
Alan Keenan, of the International Crisis Group, said Mahinda had reason to surround himself with family when he came to power in 2005 as he faced many political enemies and the threat of assassination by the Tigers.
"Up to a point, it was understandable. But now it does seem to have reached an extreme level – and with real dangers," he said.
"There's always been corruption, but businessmen in Colombo now complain it's got to the point where you have to know a Rajapaksa to get something done. That's unprecedented."
As well as being President, Mahinda heads four ministries. Gotabaya, his younger brother, is Defence Secretary. Basil, another younger brother, is an MP and presidential advisor. Chamal, the oldest brother, heads two ministries.
With dozens more relatives in prominent positions, the net result is that the Rajapaksas control an estimated 70 percent of the national budget.
Now Namal is being touted as a potential successor to his father, whose second and final term will end in 2016.
Supporters say this is no different from the Gandhis in India, the Bhuttos in Pakistan, or the Kennedys and the Bushes in the U.S.
They point out that Solomon Bandaranaike, Sri Lanka's former Prime Minister, was succeeded by his wife, who was then followed by their daughter.
T.C.Rajaratnam, who wrote last week's official eulogy, suggested Namal would rejuvenate the cabinet much as the Miliband brothers had in Britain.
"I submit that he deserves much more than the post of a Cabinet Minister for he is the only man who has gone through the miles in Sri Lanka," he wrote.
"His style is unique and incomparable. If Sri Lanka has to develop at a rapid pace then Namal Rajapaksa should have the controlling authority."
Critics, however, say such eulogies smack of the kind of personality cult surrounding Kim Jong-il, the North Korean leader.
They are equally uncomfortable with efforts to portray Mahinda as Dutugemunu, a legendary Sinhalese king.
They are also troubled by the rumours about Namal becoming custodian of the Temple of the Tooth even though the incumbent is only two years into a 10-year term.
"The plan of the Rajapaksa regime is to perpetuate a dynasty," said one expert on Sri Lankan Buddhism who declined to be identified.
"The custodian is the closest thing Sri Lanka has to a king, so this is an ideal way to cultivate an image of royalty."
Sri Lanka's ruling dynasty
Mahinda President, Minister of Finance, Media, Religious Affairs & Moral Upliftment, Highways and Road Development
Gotabaya (younger brother) Secretary of ministries of Defence, Public Security, and Law and Order
Basil (older brother) MP and senior presidential adviser on economic and international affairs
Chamal (older brother) Minister of Ports and Aviation and Minister of Irrigation and Water Management
Shashindra (Chamal's son) MP and Chief Minister of Uva province
Jaliya Wickramasuriya (Mahinda's first cousin) Sri Lankan Ambassador to the United States
Udayanga Weeratunga (Mahinda's first cousin) Sri Lankan Ambassador to Russia
Kapila Dissanayake (Mahinda's cousin) councillor of Southern Province and President's co-ordinating secretary in Hambantota
(For updates you can share with your friends, follow TNN on Facebook, Twitter and Google+)