Sri Lanka refugee crisis update — SOS Children Charity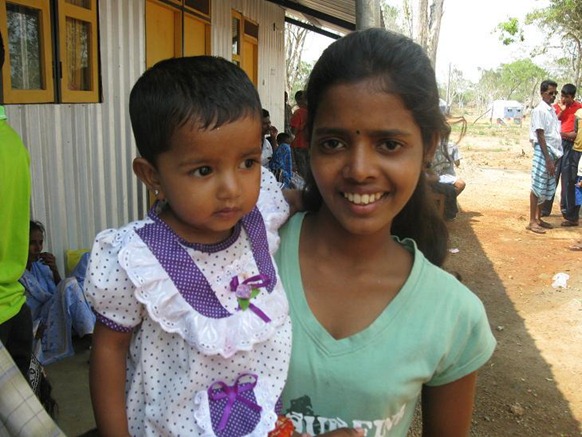 The Temporary Care Project for refugees at Chettikulam has taken in 232 lone children to date and we have successfully reunified 56 children with their families. At present there are 176 children left living with us on the project. We are doing our very best to provide these children with some sort of normality and we are giving school stationary, dry rations, clothing and foot supplies to those children whom we reunite.
All the remaining children with us now attend school except a baby girl, who is 18 months old. In total 24 of the young children sat for their G.C.E (Ordinary Level) exams and are *awaiting results. While awaiting results six boys are undergoing residential English language training at Don Bosco Institute in Mannar which is about 16 km away from our project. The remaining 18, all girls, have been arranged a special English Class by a teacher in our premises in the camp.
There are four youth preparing for their G.C.E (Advanced Level – University Entrance) examination to be held in August 2010. They are also attending special extra classes in Vavuniya town which is about 32 km away. Special permission has been obtained from the camp security officials for these children to travel outside of the camp. It is difficult to find teachers for extra coaching classes as most of the displaced people including teachers who were conducting classes have now been resettled in their native villages or with relatives. However we have made arrangements to get teachers from Vavuniya town and we are managing to continue the classes.
During the weekends the children enjoy playing different games and they also take part in music and dancing classes which is very popular among the children. When SOS Children Sri Lanka conducted "Expressions of Love", a cultural fundraising and awareness evening, four girls from our temporary care project too presented a dance item which was very well received by the audience in Colombo. The children too were very happy as this was the first time they had an opportunity to do such a performance in the presence of a large audience in a five star hotel. The most important guest at this event was a well known female actress in Sri Lanka and she also commended the performance of these girls.
The children, together with staff, had the opportunity to visit a very famous religious place, the "Madhu Catholic Church" and the children enjoyed this outing very much. This was organised by Major General Kamal Gunarathne. SOS Children Sri Lanka has meanwhile started with the second phase of this programme. Two visits were made by SOS officials to Jaffna, the northernmost town in Sri Lanka, to assess the possibility of establishing an SOS Children's Village to provide long term care for children with no traceable family. The District Secretary and other government officials were very positive about our plans. The Ministry of Child Welfare and Women's Empowerment recommended to the Presidential Task Force that we be given land to establish a children's village. The Presidential Task Force approved this proposal and requested from the District Secretary to find a suitable land for this purpose. They showed us a bare land located between Jaffna and Chavakachcheri, reachable on a road which is connected to the main road Jaffna-Kandy. It is a flat land with basic infrastructure like electricity, well water (a water supply scheme is being planned and a huge water tower is to be built in a nearby property).
The land is located 7 km from Jaffna and 10 km from Chavakachcheri where all schools, hospitals and other essential services are available. There is a large housing scheme for marginalized people at one side of the land and the government has planned another housing project at the front side. We requested 3-5 acres of land from the government and the compound was extended up to 5-8 acres during the discussions with the governmental authorities, keeping in mind the future developments.
(For updates you can share with your friends, follow TNN on Facebook, Twitter and Google+)