ITAK submits candidates' list to contest Jaffna district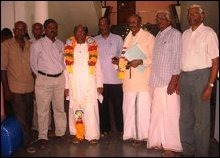 Mavai Senathirajah, General Secretary of Ilankai Thamil Arasuk Kadchi (ITAK) along with Appathurai Vinayagamoorthy of All Ceylon Tamil Congress (ACTC) submitted the list of Tamil National Alliance (TNA) candidates contesting the general election Wednesday around 11:15 a.m in Jaffna Secretariat. This nomination list has excluded many of the TNA former parliamentarians causing dissatisfaction among several Tamil circles in Jaffna including Jaffna University community, the sources added.
The following persons are the candidates in the TNA nomination list:
Mavai Somasuntharam Senathirajah – politician
Arumuagam Kanthaiah Premachandran – social worker
Appathurai Vinayagamoorthy – lawyer
C. V. Kanthaiah Sivagnanam – charted accountant
Soosaipillai Xavier Kulanayagam – draftsman
Arumugam Nadesu Rasenthiran – accountant
Kanthiah Arunthavapalan – principal
Sivagnanam Sritharan – head master
Eswarapatham Saravanapavan – industrialist
Rasarathinam Sivachandran – professor
Ponuthurai Ayinkaranesan
Mudiyappu Remedias – lawyer
Eswarapatham Saravanapavan is the Managing Director of Uthayan and Chudaro'li dailies and a senior member of UNP executive committee, the sources said.
Rasarathinam Sivachandran is a prominent counsellor of ITAK.
(For updates you can share with your friends, follow TNN on Facebook, Twitter and Google+)