Sri Lanka's dissenting voices 'silenced'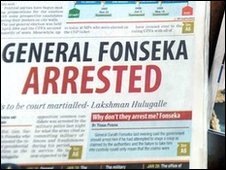 When Mahinda Rajapaksa was re-elected president of Sri Lanka in January, media organisations and human rights groups said they hoped the suppression of dissenting voices would end.
But those hopes have not materialised.
The recent arrest of defeated presidential candidate, Gen Sarath Fonseka, is seen by some as the latest example of intimidation of Mr Rajapaksa's opponents.
Analysts say the general has joined a growing list of people and organisations that have been targeted.
During the presidential campaign they noticed a dramatic increase in threats to journalists and activists – especially those deemed to have supported Gen Fonseka.
Demonstrations
Some media employees and rights groups have protested, and there are fears the situation could get worse ahead of parliamentary elections in April.
ondon-based human rights group Amnesty International has just compiled a list of journalists who are at risk.
"Many who are viewed as having been critical of President Rajapaksa have received threats," says Sam Zarifi, Amnesty's director for the Asia-Pacific region.
"We could document 56 journalists facing threats in Sri Lanka. The number could be more."
He said those who had been threatened worked for state and private media.
Analysts say that shortly after the presidential election the police shut down the office of a pro-opposition newspaper, Lanka, in Colombo. The editor was detained for weeks before being released.
Lanka is affiliated to the Sinhala nationalist JVP (People's Liberation Front), which supported Gen Fonseka.
Missing
The website lankanews.com also says it was intermittently barred by the authorities during the presidential campaign, a charge the government denies.
The same website is still searching for one of its journalists who disappeared two days before the poll.
Colleagues of Prageeth Eknaligoda say he wrote articles supporting Gen Fonseka.
In recent months several Sri Lankan journalists have fled the country fearing for their lives, including senior members of Sri Lanka's Working Journalist Association and the Free Media Movement.
Sri Lankan Media Minister Laxman Yapa Abeywardhana admits that "there are some issues in the government media".
But he says "it is a struggle between the unions. It has nothing to do with media freedom."
Sri Lanka's biggest media workers union disagrees.
"It is a clear case of political vendetta. They are targeting people who supported Gen Fonseka's campaign and even independent journalists," says Dharmasiri Lankapeli, the general secretary of the Media Workers' Trade Union Federation.
The media rights group Reporters Without Borders says Sri Lanka is one of the most dangerous places for journalists to work in the world.
Several have been killed since Mahinda Rajapaksa became president in 2005 – including one of the country's highest-profile newspaper editors, Lasantha Wickrematunge, who was a vocal critic of the government.
No-one has been charged in connection with his death in January 2009, and many cases involving journalists remain unsolved.
The government has been accused of refusing to let journalists freely report from the conflict zone during the final stages of its decades-long conflict with the now defeated Tamil Tigers.
Sri Lanka has denied visas to many foreign journalists and is still blocking independent media from visiting areas where people displaced by the war have been re-settled.
'No problem'
"There is a fear that we are going back to the dark ages," says N Vidyadharan, editor of two Tamil newspapers.
He was detained for weeks on suspicion of giving information to the Tamil Tigers but was later released without charge last year.
Mr Vidyadharan says the threats are being directed at a much wider variety of media organisations.
"Tamil journalists faced a lot of pressure during the war," he explains.
"But this time those who worked for English and Sinhala news media were targeted. This is done to make sure the majority Sinhala voters don't know about alternatives.
"If the government wants to stop the attacks on the media, it can do it in a minute.
"Those who were involved in the attacks on the media in the past few years have not been brought to justice. There seems to be a culture of impunity."
Sri Lanka's media minister denies the charges.
"There is no truth in all these allegations. There is no problem with regard to media freedom," Mr Abeywardhana says.
In the past the Tamil Tigers were often accused of killing and intimidating journalists.
But since their demise, campaigners have been pointing the finger at the government.
"Unfortunately right now the civilian government seems to be behind this," says Amnesty's Sam Zafiri.
(For updates you can share with your friends, follow TNN on Facebook, Twitter and Google+)