Brown, Miliband 'white tigers': NFF
By Lakna Paranamanna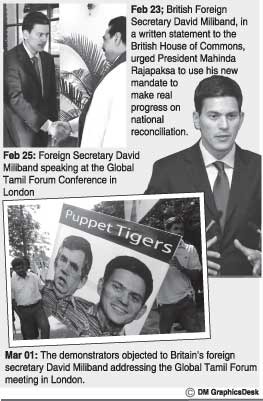 National Freedom Front (NFF) leader Wimal Weerawansa yesterday urged British citizens to protest Britain government's attempt to divide Sri Lanka through its support for separatists.
He told a demonstration organized by the party that some British leaders supported terrorist groups with the intention of securing votes of the Tamil Diaspora resident in Britain.
The demonstration was organized to protest the speech made by Britain's Foreign Secretary David Miliband at the Global Tamil Forum (GTF) held in Britain last week.
In a letter handed over to the British High Commission, the NFF said that although the LTTE had been eliminated in Sri Lanka the Tigers' international terror-network still operated through various proxy organizations.
"The GTF is one of the main proxy organizations of the LTTE and was instrumental in forming the Provisional Trans-national Government of Tamil Eelam'," Mr. Weerawansa claimed.
He said the objectives and the activities of GTF posed a direct threat to the sovereignty and territorial integrity of Sri Lanka and as such anyone who directly or indirectly assisted those groups could be treated as promoters of global terrorism and violators of international laws.
"We hope the British government will not participate in activities that may lead to the division of the Sri Lanka help the LTTE to raise its head again," Mr. Weerawansa said.
He said protests would be held countrywide, to make the masses aware of the conspiracy being carried out abroad.
(For updates you can share with your friends, follow TNN on Facebook, Twitter and Google+)