Ex-Somali defense minister in war-crimes trial in US
U.S. Supreme Court will hear "war-crimes charges" against former Somali Defense minister and Prime Minister Mohamed Ali Samantar in a civil case this Wednesday, legal sources in Washington said. Samantar, 74, currently lives in Fairfax, Virginia, after fleeing his native country in 1991 to Rome, and then moving to the U.S. to join his wife and children in 1997. Samantar's five accusers say that Samantar bears command responsibility for a "regime of repeated rape, abduction, summary execution, and years long imprisonment in solitiary confinement" of many of their relatives. Samantar's attorneys argue that their client has immunity under Foreign Sovereign Immunity Act.
The questions presented to the Supreme Court are:
Does a foreign state's FSIA immunity from suit extend to an individual acting in his official capacity on behalf of the foreign state?
Does an individual who is no longer a government official of a foreign state at the time suit is filed retain FSIA immunity for acts taken in that individual's former capacity as a government official acting on behalf of a foreign state?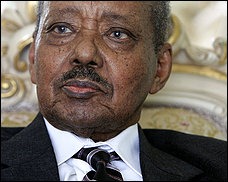 The decision of the Supreme Court has potentially powerful policy implications for the United States and its foreign relations, noted legal sources in Washington said.
"The Court's decision has significant relevance to the Tamil expatriates whose efforts are centered in bringing legal action against Sri Lanka political and military officials alleged to have committed war crimes in Sri Lanka against Tamils. U.S. legal precedents are especially relevant as two of the key alleged perpetrators, current Defense Secretary Gotabhaya Rajapakse, and former Sri Lanka Army commander Sarath Fonseka, are either a US citizen or a Green card holder," a spokesperson from US-based pressure group Tamils Against Genocide (TAG) said.
Washington post, tracing the legal action against Samantar said, "[n]atives of Somalia filed suit against Mohamed Ali Samantar in a Virginia federal district court under the Torture Victim Protection Act ("TVPA") and the Alien Tort Statute ("ATS"). Plaintiffs alleged that Mr. Samantar committed torture and other human rights violations while he commanded Somali government agents under the regime of Mohamed Siad Barre. The district court dismissed the case, holding that Mr. Samantar was immune to suit under the Foreign Sovereign Immunities Act ("FSIA").
"On appeal, the U.S. Court of Appeals for the Fourth Circuit reversed, holding that the FSIA did not render Mr. Samantar immune to suit. The court reasoned that the FSIA does not apply to foreign government officials. The court further reasoned that even if the FSIA does apply to foreign government officials, it does not apply to former foreign government officials."
While Samantar's attorney, Michael Garvin, said that a decision against Samantar may open legal suits against US officials in other countries, plaintiffs' attorney, Patricia Millet, countered that US Congress and Executive branch have expressly determined that it is in the US interest to deny foreign officials who engage in torture and killing a safe haven within the U.S., the paper further reported.
(For updates you can share with your friends, follow TNN on Facebook, Twitter and Google+)