Government engaged in setting up Sinhalese colonies in Vanni – Suresh Premachandran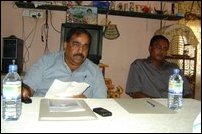 "Sri Lanka government is actively engaged in colonizing the Vanni districts of Mannaar, Mullaiththeevu and Ki'linochchi with the families of armed force personnel and Sinhalese people," Suresh Premachandran, former Tamil National Alliance (TNA) parliamentarian and one of the TNA candidates contesting Jaffna electoral district, said in a press briefing held Wednesday at his Jaffna office.
Suresh Premachandran also said that Sri Lanka Navy (SLN) had invaded many acres in Mannaar where a big SLN base is being built. He accused the government for its elaborate plan to colonize the area with the families of armed force personnel and Sinhalese civilians.
"Sinhalicisation of Tamil homelands cannot be allowed and TNA will continue to safeguard Tamil Nationalism and to address the problems of the Tamils," Suresh Premachandran said.
He accused the paramilitary group of the government allied Tamil political party for the two recent attacks on his Jaffna office.
Meanwhile, he blamed the government to have paid money to many independent groups to contest Jaffna electoral district with the motive of splitting the votes in Jaffna peninsuala.
He further accused that the government for bringing people from the South to the Tamil districts in the North paying them money.
(For updates you can share with your friends, follow TNN on Facebook, Twitter and Google+)