Sri Lanka commission bans election posters and cut-outs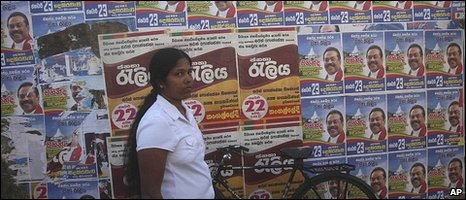 The Sri Lankan election commission has ordered that all posters and cardboard cut-outs of candidates be removed in keeping with electoral regulations.
It said such rules were widely flouted in January's presidential poll, in which President Mahinda Rajapaksa won re-election.
The ruling comes one month before parliamentary polls.
The governing coalition is bullish about its chances of winning a big majority in the 225-seat parliament.
'Not morally correct'
The electoral commission says that all posters and giant cardboard cut-outs of candidates must be removed unless they are at party offices or used at pre-election meetings.
The rules are now being roundly flouted, especially on the government side.
Removing the offending publicity material will not be easy. Posters of government candidates are plastered around the country everywhere.
In the far south images of President Rajapaksa, his three brothers and his son, who are all in politics, gaze down on roads and streets.
An official at the electoral commission explained to the BBC that all posters should be removed, adding that even though the president is not a candidate, it was "not morally correct" for his picture to be so presented.
The police spokesman, Prishantha Jayakody, said labourers were being recruited and that from this weekend they would be helping the police to remove the offending articles.
Electoral officials say it is quite possible that posters will be removed only to be reappear the next morning.
After the presidential vote, Elections Commissioner Dayananda Dissanayake admitted that he "could not even ensure the safety of one ballot box".
He said that he had done his duties "under great duress and mental agony".
A few days later, however, he withdrew his earlier request to resign from the post.
For the past month the government has detained the losing candidate, Sarath Fonseka.
(For updates you can share with your friends, follow TNN on Facebook, Twitter and Google+)