Experts to advise Ban Ki Moon on Sri Lanka's alleged war-crimes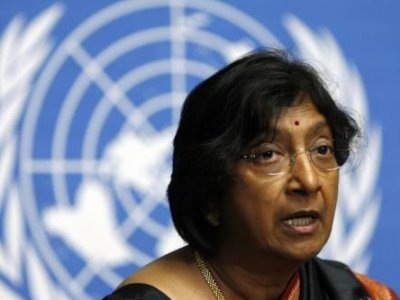 U.N. Secretary-General Ban Ki-moon plans to ask a panel of experts to advise the world body on "accountability issues" relating to possible human rights abuses in Sri Lanka, Reuters reported quoting spokesperson Martin Nesirky as saying. Ban has said an investigation of war crimes allegations should be handled by the High Commissioner for Human Rights in Geneva, Navi Pillay, who has called on Sri Lanka to investigate the allegations itself — albeit with outside help, Reuters added. Calling the action "unwarranted" Sri Lanka said, "[n]o such action had been taken about other states with continuing armed conflicts on a large scale, involving major humanitarian catastrophes and causing the deaths of large numbers of civilians due to military action."
I am convinced that Sri Lanka should undertake a full reckoning of the grave violations committed by all sides during the war, and that the international community can be helpful in this regard," Navi Pillay told the U.N.'s Human Rights Council in Geneva on Thursday.
Ban told Sri Lanka's President Mahinda Rajapakse that he intended to "go ahead with the establishment of a panel of experts," according to Nesirky.
Gordon Weiss, a former UN spokesperson for Sri Lanka who had detailed knowledge of the ground battles and who resigned from the UN after 14 years and returned home to Australia, in an interview to the ABC News said, Sri Lanka's military massacred as many as 40,000 Tamil civilians in the final onslaught against the Liberation Tigers in 2009.
Several Rights groups have accused Sri Lanka and the LTTE of war crimes during the conflict's final phase and they have demanded an independent probe of the allegations, as has U.N. special rapporteur for extrajudicial executions Philip Alston.
Recently, an independent tribunal in Dublin after two days of in-camera hearings from more than 20 eye-witnesses who escaped Sri Lanka's slaughter of Tamil civilians concluded that Sri Lanka committed war-crimes, but stopped short of declaring that the crimes amounted to genocide.
The Sri Lankan government has denied charges of deliberately targeting civilians and other human rights breaches.
Professor Francis Boyle, an expert in International Law, earlier noted that the U.N. Secretary General has the power to order and publish not only investigations into the violations of member countries in the conduct of war, but also the "entire role played by the United Nations Organization and its Officials," during the wars.
"The previous U.N. Secretary General Kofi Annan so ordered two separate investigations concerning the roles played by the United Nations during the genocides in Rwanda and Srebrenica, respectively," Boyle noted.
Observers have asserted, however, that ban on media and eviction of international NGOs from battle zones, while the slaughter was in progress, and for months after the conclusion of the battles, have provided enough space for the Sri Lanka Government to destroy material evidence from battle zones that can establish Sri Lanka's culplability in such crimes.
Spokesperson for the US-based pressure group, Tamils Against Genocide (TAG) said, "United Nations has a moral obligation to be more proactive in conducting investigations into war-crimes allegedly committed by member countries that are not signatories to the Rome statute. Non-signator countries enjoy some level of protection, and options to obtain justice in International Criminal Court (ICC) for victims who suffered egragious rights violations by non-signator member countries are limited, and available only if the Security Council initiates the investigation, or an "active" prosecutor exercises his proprio motu powers under Article 15 of Rome Statute. However, prosecutor Moreno Ocampo has already expressed reservations on using his own powers on Sri Lanka."
(For updates you can share with your friends, follow TNN on Facebook, Twitter and Google+)