Indian diplomat Nirupama Rao visits Sri Lanka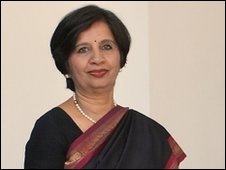 Indian Foreign Secretary Nirupama Rao is due to arrive in neighbouring Sri Lanka for a three-day visit involving talks with top officials.
Details have not been revealed, but the diplomats may discuss a political solution to the grievances of the Tamil minority in the island state.
Sri Lanka's President Mahinda Rajapaksa has been be vague about any plans for such a solution.
But many feel that Colombo could listen to gentle pressure from Delhi.
Last week Mrs Rao was struggling to rebuild a rapprochement with India's bitter rival, Pakistan.
Her visit to Sri Lanka will be an entirely different matter.
Despite historical baggage, such as an ill-fated Indian military intervention 20 years ago, India now regards its small southern neighbour as one of its very closest allies.
The feeling is mutual. Colombo bitterly rejected diplomatic pressure from Western countries when they criticised its tactics in its all-out military crushing of the Tamil Tiger rebels last year.
Chinese investment
Any pressure from India has been gentler and more acceptable to the government here.
Yet India does have its concerns. It is home to far more Tamils than Sri Lanka.
And its Foreign Minister, SM Krishna, said on Wednesday that India had "stressed" to its neighbour the need to reach a political settlement acceptable to all communities including the Tamils.
India does have another concern. It is lagging behind China in investing to help develop and rebuild infrastructure in post-war Sri Lanka.
(For updates you can share with your friends, follow TNN on Facebook, Twitter and Google+)