K. Balachander appreciates VTV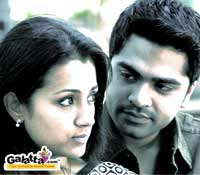 Gautham Menon's Vinnaithaandi Varuvaayaa mesmerizes the pillar of Kollywood – K. Balachander. Extremelly impressed by VTV, the director has written an open letter to Gautham Menon comparing him with the legends like S.S. Vasan, Av. Meyappa Chettiar, Bharathi Raja and Mani Ratnam.
"The last film of yours that I saw was Varanam Aayiram. And I realized that you too are a believer who believed in himself and his craft! You showed in your own signature way that your pen is mightier than the sword – or gun – or pistol – or karate or whatever form of violence that is in vogue with which ever stunt master is currently in fashion!"
"I saw a film maker who translated his imagination into celluloidal paintings. I saw a film maker who did not underestimate the intelligence or the comprehension of his viewers. I saw a film maker who believed that human emotions can be translated visually and at the end of the that it is relationship that makes human life significant and meaningful. I saw a film maker who wanted to make a film for posterity and not for a specified time and taste span," he described in his letter.
He further added, "Yesterday, I saw your Vinnaithaandi Varuvaaya. I saw after a very long time – characters became people instead of caricatures. I saw a control over narration and performance which left me stunned. I saw frame after beautiful frame, composition after bewitching shot composition, that conveyed in every running foot, in every fleeting second, the conviction and the confidence that you has as much in your story as in your cast and crew."
"It was a heart-warming, heart wrenching film, stunningly visual, soaringly musical and compellingly straightforward and uncomplicatedly honest. This 80 years old man was pondering on the way back home after watching your film if he could tell his 75 years old wife "I LOVE YOU" to see whether she can still blush."
(For updates you can share with your friends, follow TNN on Facebook, Twitter and Google+)