32 journalists from Trincomalee district visit Jaffna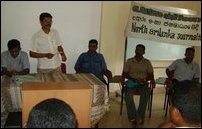 A group of thirty-two journalists from the communities of Sinhalese, Tamil and Muslim from Trincomalee district visited Jaffna peninsula Sunday under a program arranged by National Peace Council (NPC) aimed at promoting understanding between communities, sources in Jaffna said. The group of journalists visited the offices of Uthayan, Yarl Thinakural and Valampuri Tamil dailies published in the peninsula.
The journalists were taken to Nalloor Kanthasuvaami Koayil, Chaaddi Church and Naka Vikaarai in Nainaatheevu,
They also met the local journalists in the Centre of Media and Research in Jaffna town.
The visiting journalists are expected to study the livelihoods of the people and their attitude to the approaching general election, NPC sources said.
This is the first time journalists from East are visiting as a group after a long period of time.
Journalists from the South had visited Jaffna peninsula under a similar program organized by NPC.
NPC sources further said that arrangements are underway to take journalists from the peninsula to the South soon.
(For updates you can share with your friends, follow TNN on Facebook, Twitter and Google+)