India worked against Sri Lanka president: minister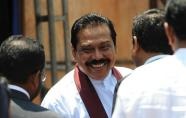 India's external intelligence agency tried to undermine Sri Lanka's President Mahinda Rajapakse at polls in January and wanted him defeated, a minister said in an interview published Monday.
Nandana Goonathilake, minister of postal services, said the Research and Analysis Wing (RAW), India's foreign intelligence service, had worked against Rajapakse at the January 26 vote even though the Indian government publicly supported him.
"How the RAW operates and the way that the government of India operates are sometimes very different," Goonathilake told the Daily Mirror newspaper in an interview.
"This is why I said though the Indian government was for President Rajapakse, particular (RAW) officials worked against him," he added, without elaborating.
His remarks came as India's Foreign Secretary Nirupama Rao was in Colombo, the highest level visit since Rajapakse won re-election, to discuss post-war politics and reconciliation in the island.
Rao held closed-door talks with Rajapakse on Sunday and pledged more support to re-settle thousands of ethnic Tamils displaced during the final phase of fighting between troops and Tamil Tiger rebels last year.
"She expressed India?s willingness to continue assisting Sri Lanka in the resettlement of the IDPs (internally displaced people)," Rajapakse's office said in a statement.
Sri Lanka has been internationally criticised for holding up to some 300,000 Tamils in internment camps which were eventually closed earlier this year.
The government crushed the country's Tamil Tiger rebels in May last year in a giant offensive that remains dogged by war crimes allegations.
(For updates you can share with your friends, follow TNN on Facebook, Twitter and Google+)