On Sri Lanka, UN's Ban Restates Concern on Lack of Progress, Unaware of Job Request – Inner City Press
By Matthew Russell Lee
UNITED NATIONS, March 8 — After a weekend during which Sri Lanka's president and ruling party attacked UN Secretary General Ban Ki-moon for saying he will name a panel to advise himself about possible war crimes in Sri Lanka, Inner City Press asked Mr. Ban for his side of the story.
  Ban said " I am concerned with the lack of progress of the joint statement which both I and President Rajapaksa had agreed during my visit last year." Ban declined to provide any further description of the panel or when he will name its members. Transcript below.
Inner City Press also asked about the acknowledgement over the weekend by Sri Lanka's foreign minister that he has sought a UN job for his son.
  While the same sources who first told Inner City Press about the minister's letter say it was addressed to Ban's chief of staff Vijay Nambiar, Ban replied that he is unaware of the request. He said that the UN has transparent recruitment procedures, an assertion that many dispute, including as to the children and sons in law of the top UN officials.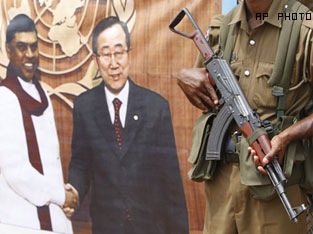 UN's Ban depicted shaking with presidential brother Basil Rajapaksa, under the gun
Here is the UN's transcript of the Q & A:
Inner City Press: Mr. Secretary-General, late last week you spoke with the President of Sri Lanka, and said that you are going to name a panel, to advise yourself, on accountability. Over the weekend, the President said that you had no right to do it and had a very different read-out of the call than we received, at least the way I hear it. Can you explain what the purpose of the Panel is and when you think you're going to name it? And also the Foreign Minister of Sri Lanka, also over the weekend, confirmed that he sought a job for his son with the UN. I wonder if you think that is appropriate, and is such a job going to be given?
SG: As you said, I had a frank and honest exchange of views with President [Mahinda] Rajapaksa, Thursday night, last week, over issues that were of concern to both of us. This included moving forward on political reconciliation, further movement on the condition of internally displaced persons, and the establishment of an accountability process. I am concerned with the lack of progress of the joint statement which both I and President Rajapaksa had agreed during my visit last year. I raised this issue and discussed [it]. I made clear to President Rajapaksa that I intend to move forward on a Group of Experts which will advise me on setting the broad parameters and standards on the way ahead on establishing accountability concerning Sri Lanka. For that purpose, we have agreed that I dispatch[Under-Secretary-General of Political Affairs] Lynn Pascoe in the very near future.
Q: Do you think that it's appropriate for the Foreign Minister of a country with which you are dealing with on possible war crimes to be seeking a job for his son with the UN?
SG: First of all, I am not aware of that particular case of job application of the Foreign Minister's son. As a matter of fact, any
recruitment process will have to be dealt with in a most transparent and objective manner by the selection committee members. That is what the United Nations has been [using] as a principle.
Inner City Press: Investigative Reporting from the United Nations
(For updates you can share with your friends, follow TNN on Facebook, Twitter and Google+)