Lawyers alarmed over 'rights abuse' in Sri Lanka – BBC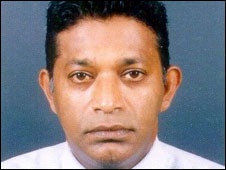 A panel of international lawyers says it is alarmed over reports that human rights activists and reporters are being intimidated in Sri Lanka.
The International Bar Association (IBA) also voiced concern over the possibility of bringing in criminal charges against activists by Colombo.
It says that 35 activists critical of the government have been listed according "to their level of dissent".
Sri Lanka maintains there is no intimidation against rights activists.
The IBA, which represents the legal professionals worldwide, says that prominent Sri Lankan human rights lawyer JC Weliamuna and rights activist Paikiasothy Saravanamuttu are "understood to have been placed at the top of a list", to be targeted by the authorities.
The IBA says 35 activists, lawyers and journalists who have been critical of the government have been listed.
The government has not officially commented on the alleged list.
'Witch hunt'
The IBA says it is "deeply concerned" for the safety of Mr Weliamuna and Mr Saravanamuttu "who have previously been subject to serious coercion, including physical attacks and death threats".
Amnesty International, Human Rights Watch, Transparency International Sri Lanka of which Mr Weliamuna is the executive director, the Centre for Policy Alternatives headed by Dr Saravanamuttu, and the Asian Human Rights Commission have also urged the Sri Lanka authorities to end their "witch hunt".
In recent weeks, Sri Lankan Prime Minister Ratnasiri Wickremanayake and ministers have warned that international and domestic groups found to be "conspiring against the government" will be banned.
A recent report by the US state department has raised concern over threats against human rights activists in Sri Lanka.
Alex Wilks of the IBA told the BBC Sinhala service that it had been approached by international organisations expressing concern.
"We are worried that these criminal charges are being brought against Mr Weliamuna with a view to intimidating him and preventing further activities," Mr Wilks said.
Juan Mendez, another IBA member, urged the Sri Lankan government to demonstrate its commitment to democratic principles "by ensuring that freedom of expression and accountability are made a reality for all its citizens".
BBC News – Lawyers alarmed over 'rights abuse' in Sri Lanka
(For updates you can share with your friends, follow TNN on Facebook, Twitter and Google+)