On Sri Lanka, UN Now Says Panel "Not Very Soon," Response to NAM, and by UK
Even after the UN says it will belatedly take some action about war crimes in Sri Lanka, , it steps back from its announcement, using as justification a letter whose logic even UN senior advisers find specious.
A week after UN Secretary General Ban Ki-moon said he "made clear to President Rajapaksa that I intend to move forward on a Group of Experts which will advise me on setting the broad parameters and standards on the way ahead on establishing accountability concerning Sri Lanka," now there is no timetable for establishing the panel.
Inner City Press asked Ban's spokesman Martin Nesirky on March 15 about the timing, and a pro-Rajapaksa letter submitted to Ban by Egypt's Ambassador on behalf of the Non Aligned Movement. Nesirky, reading from notes, said that the panel is "unlikely to be established very soon." He did not respond about the NAM letter. Video here, from Minute 6:25.
Afterwards, Inner City Press asked a senior Ban adviser, who immediately questioned the logic of the NAM letter. "They will be getting a reply," the adviser promised. While he tried to explain the now announced delay is setting up the panel of experts, one can compare this to the speed with which Ban named a panel on the killing of 150 civilians in Guinea on September 28, 2009.
The panel was named, investigated and has already reported. By contrast, on many more killing in Sri Lanka in early 2009, the UN says that its late announced panel is "unlikely to be established very soon." Why?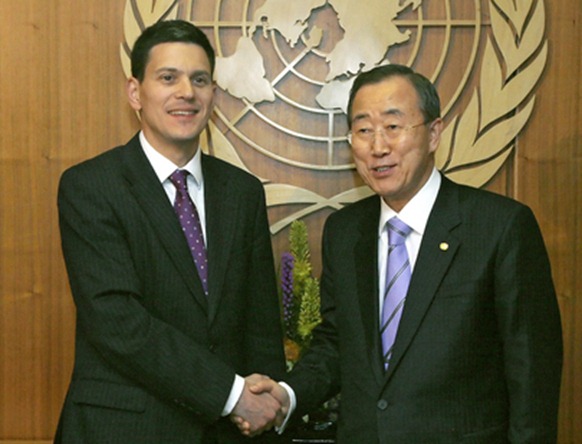 UN's Ban and UK's Miliband, NAM letter and Guinea double standard not shown
Also on Sri Lanka and war crimes, while UK Foreign Secretary David Miliband did not, as UK embassies in the U.S. had appeared to promise, respond to Inner City Press' timely submitted question about the investigation of and accountability for war crimes — "If Sri Lanka refuses to investigate war crimes does UK think the UN should name a panel of inquiry as in Guinea?" — the following was later received:
Subject: Sri Lanka
From: Brian.McGuigan, British Embassy, Washington
To: Inner City Press
Date: Fri, Mar 12, 2010
Matthew, We're sorry that the Foreign Secretary was not able to answer your question on Twitter. We'd still like to give you a response from the British Government, however.
This was a war without witness. The UK supports any credible process to address possible violations of international humanitarian law by both sides to the conflict. Such a process could advance the prospects of national reconciliation.
(For updates you can share with your friends, follow TNN on Facebook, Twitter and Google+)