Sri Lanka denies 'hit list' charge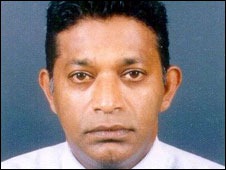 The office of Sri Lanka's president has denied that there is a "hit list" of activists and journalists who are being targeted by the government.
However, the authorities said they were preparing legislation to monitor some groups amid widespread malpractices.
The list appeared two weeks ago on a local website and has been taken up by Amnesty International, Human Rights Watch and other international groups.
It names 35 journalists, activists and lawyers critical of the government.
"The office of the president has not found evidence of any such list of persons prepared by the state intelligence service as stated on Lanka News Web, or by any other law enforcement authority," President Mahinda Rajapaksa's office said in a statement.
'Witch-hunt'
"There is absolutely no reason to fear that there is a physical threat or lack of safety to the critics of the government including journalists, civil society activists and human rights defenders," it added.
The list contained the names of prominent Sri Lankan human rights lawyer JC Weliamuna and rights activist Paikiasothy Saravanamuttu.
The two wrote a letter to President Rajapaksa expressing concern.
A few days ago, the International Bar Association's Human Rights Institute (IBAHRI) said it was alarmed over reports that human rights activists and reporters were being intimidated in Sri Lanka.
Amnesty International, Human Rights Watch, Transparency International Sri Lanka (of which Mr Weliamuna is the executive director), the Centre for Policy Alternatives (headed by Dr Saravanamuttu) and the Asian Human Rights Commission also urged the Sri Lankan authorities to end their "witch-hunt".
In recent weeks, Prime Minister Ratnasiri Wickremanayake and ministers have warned that international and domestic groups found to be "conspiring against the government" will be banned.
(For updates you can share with your friends, follow TNN on Facebook, Twitter and Google+)