"All military camps in Jaffna peninsula will be scrapped if UNP wins" – Ranil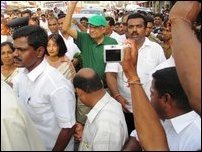 Ranil Wickremasinghe, leader of United National Party (UNP), who arrived in Jaffna accompanied by his wife said that all the military camps in Jaffna peninsula will be scrapped except Palaali Sri Lanka Army (SLA) camp, in the UNP election campaign meeting held in Jaffna Veerasingham Hall Friday. "High Security Zones are no longer necessary in the peninsula and the people evacuated from these places will be immediately resettled in their own properties if UNP becomes the ruling party in the general election," he further said.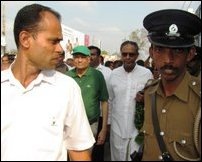 More than five hundred people attended this meeting where UNP chief candidate for Jaffna electorate Ms. Vijayakala Mahendran, Mrs. Ranil Wickremasinghe, Tissa Athanayake, the General Secretary of UNP and its treasurer Swaminathan were present.
Ranil Wickremasinghe and his group were led from Jaffna town to Veerasingham Hall in procession with the playing of traditional pipes and drums.
Ranil Wickremasinghe announced that the following matters will be expedited if UNP comes to power:
• All HSZs except Pallali will be scrapped and the owners of the properties, be they Muslims, people from Vanni or Jaffna, will be resettled in their properties immediately.
• A Commission of Inquiry will be established and it will immediately begin to find what had happened to the persons gone missing in Jaffna peninsula during the present government.
• No one except the government armed forces will be permitted to bear weapons and all paramilitary groups will be done away with.
"We all have to beg the forgiveness of the people for all the pain we had inflicted on them," Ranil Wickremasinghe said.
"The burning of Jaffna Public Library, attacks of Dalada Maligawa and Maha Bothi, the loses of political leaders like Amirthalingam, Raviraj, Maheswaran, Joseph Pararajasingham and many others are all tragic indeed," he added.
"All of us are responsible for all these tragic events for which we have to apologize to the people," Ranil said.
Once UNP comes to power the aim of its government will be to restore normalcy of life and prioritizing development of the country and we will strive to achieve these goals, he said in conclusion.
TamilNet: 19.03.10 "All military camps in Jaffna peninsula will be scrapped if UNP wins" – Ranil
(For updates you can share with your friends, follow TNN on Facebook, Twitter and Google+)