Sri lanka boycott draws Congressman's attention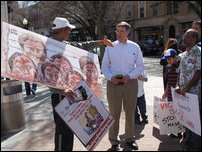 Congressman Rush Holt (D-NJ) from 12th Congressional district in New Jersey stopped at the Tamil protesters "Boycott Sri Lanka" campaign rally in Princeton New Jersey Saturday, and inquired about the current situation of Tamil refugees in Sri Lanka, organizers of the protest campaign said. The Congressman also showed interest in educating himself on the details on Sri Lanka's garment industry and the extent of the presence of the big U.S. apparel manufacturers in Sri Lanka. Organizers of the Saturday's campaign, the US-based activist group, USTPAC, said the campaign-day was successful with protesters holding rallies in Boston (MA), Raleigh (NC), Baltimore (MD), New York, Atlanta and San Francisco (CA)..
More than twenty activists participated at the Baltimore rally near the Inner Harbor area from 11:00 a.m. till 4:00 p.m. distributing "Boycott Sri Lanka" leaflets throughout the rally. Management staff at the Gap, Victoria's Secret and Banana Republic were briefed on the protests, and were told that the organizers plan to sustain the campaign for the forseeable future, the participants at the rally said.
The protest in Raleigh was held in front of the Triangle Town Center mall from 11:00 am to 2:00pm. Several hundred boycott Sri Lanka brochures were also distributed, according to the rally attendees.
"American Tamils are aware that economic boycott is one of the critical pressure points that Tamil expatriates can employ to make Colombo recognize that unless a just political solution based on Tamils right to self-determination is achieved, the expatriate will continue the struggle in democratic ways," said the organizer for the Baltimore protest.
"Now that we have formed key active groups in many cities across the U.S., maintaining a sustained boycott campaign for the forseeable future is not difficult. We will keep expanding our efforts, and hope that Tamil groups in other countries engage in similar efforts spreading the campaign to their own localities," he added.
(For updates you can share with your friends, follow TNN on Facebook, Twitter and Google+)