Sri Lankan Muslim convert accused of being 'anti-state'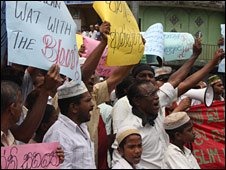 A Sri Lankan woman who converted from Buddhism to Islam has been arrested by the authorities on suspicion of anti-state activities.
The woman, who is resident in the Gulf state of Bahrain, had recently written two books about her conversion.
They were written in Sinhala, the language of Sri Lanka's ethnic majority, who are mostly Buddhists.
She was on holiday in Sri Lanka when she was detained and is now being held in a police station.
The national police spokesman told the BBC he believed there were allegations that she was involved in anti-government or anti-state activities.
He did not know the details but remarked that although her name was Sinhalese, she was acting and wearing clothes in the manner of a Muslim woman.
A report in the Bahrain-based Gulf Daily News named her as Sarah Malanie [sic]Perera and said she had lived in the Gulf state since she was a teenager in the mid-80s.
But it said she converted to Islam in 1999 and that her parents and sisters also made the conversion.
The newspaper quoted her sister, also a Bahrain resident, as saying she recently published two books on Islam and comparative religion, one of them called From Darkness to Light, explaining why she changed faith.
The sister said she was apprehended while trying to send some of the books out of Sri Lanka through freight because one of the staff there was linked with a Buddhist nationalist party and reported the book to the police.
Buddhist nationalism is currently an influential force in Sri Lanka and the party in question is part of the government coalition.
(For updates you can share with your friends, follow TNN on Facebook, Twitter and Google+)