India keen on direct involvement in the North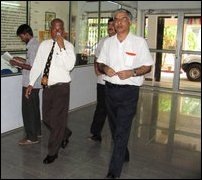 Economic and Commercial Counselor of Indian High Commission (IHC) in Sri Lanka, Santosh Jha, accompanied by his assistant Dinesh Kumar, met Jaffna Government Agent (GA), K. Ganesh, Friday at Jaffna Secretariat to discuss matters related to finding a suitable location in Jaffna to open a branch of Colombo IHC, sources in Jaffna said. Though it is said that the aim of opening a branch in Jaffna is to expedite issuing visa, the real motive is to extend India's activities directly in the North in the context of Chinese presence and involvement in Jaffna peninsula, civil society circles in Jaffna said.
The visiting Indian emissaries inspected certain locations in Jaffna, including the area near Duraippah Stadium, which had been selected for the purpose by Jaffna Secretariat.
India plans to extend its activities in the North in the spheres of culture and sports and to engage directly in projects of rebuilding the various structures destroyed during the war, Jaffna Secretariat sources said.
Meanwhile, Jaffna GA said that the IHC Counselor's purpose of visit to Jaffna was to explore avenues of India's direct involvement in the fields of sports and culture.
Chinese firms and men are already engaged in several development projects including road development funded by China in Jaffna peninsula.
(For updates you can share with your friends, follow TNN on Facebook, Twitter and Google+)