New generation takes lead role in forming country council of Switzerland
More than 40 candidates, including talented Tamil youth of the second generation have come forward to participate as candidates in the elections for the country council of Eezham Tamils in Switzerland across 26 cantons of Switzerland. The voting to elect 25 representatives of the Swiss Council of Eezham Tamils (SCET) and its federal units is scheduled to take place in 19 cantons between 10:00 a.m. and 17:00 p.m. on Sunday. The Tamil Elections Switzerland (TES), a coalition formed by seven Tamil organisations in the country, has also come up with an experimental mechanism for allowing the voters to appoint and vote for their favourite candidates at the same time. In addition to those who have already nominated as candidates, each voter will have the possibility of adding two possible candidates for the respective Canton, the organisers said.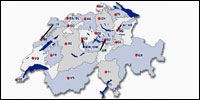 A Tamil Muslim female is also contesting the SCET elections. Two of the candidates are non-Tamils.
Some of the Cantons, where only a few Tamil families reside, will have common representation in the Swiss Council of Eezham Tamils (SCET), which follows the federal model of cantons for its structure.
The TES has introduced the candidates in its website with video presentations.
Five prominent Swiss politicians from four political parties have formed a patronising committee in support of the democratic move by the Eezham Tamils in Switzerland.
The democratic moves of Swiss Tamils for their political organisation have already received widespread appreciation from the Swiss media, political parties and from the members of the National Parliament.
In January, the TES conducted a referendum re-mandating the main principle of the Vaddukkoaddai Resolution of 1976 calling for independent and sovereign Tamil Eelam in the North and East of the island of Sri Lanka. An overwhelming 99 percent of ballots cast in the referendum, participated by 66 – 70 percent of eligible Eezham Tamil voters in Switzerland, said 'yes' to Tamil Eelam.
The credible and systematic way the referendum was conducted was widely appreciated by many in Switzerland. More than 25 newspapers in German and French languages in the country covered the event.
(For updates you can share with your friends, follow TNN on Facebook, Twitter and Google+)