UK backs Burma tried in UN war crimes tribunal
"Britain is backing moves to refer Burma's military leaders to the international criminal court for investigation into war crimes and crimes against humanity. The move is part of a heightened campaign to force the junta to embrace genuine democratic reforms," UK's Guardian said quoting diplomatic and government sources. Britain's ambassador to the UN, Sir Mark Lyall Grant, said the UK supported a recommendation by the UN special rapporteur on human rights in Burma that The Hague-based International Criminal Court (ICC) opens a war crimes investigation, the paper added.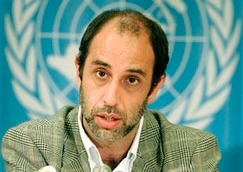 Acknowledging, however, that the UN Security Council's five permanent members were "not sufficiently unanimous" in their views to allow an ICC referral to happen immediately [to try Burma for war-crimes], the UK ambassador said, if such a proposal were tabled Britain would support it, and that nearly 200 British MPs have backed the referral campaign.
Welcoming Britain's backing for an ICC referral, Anna Roberts, the director of Burma Campaign UK, said: "The generals in Burma will never allow justice and democracy … Rather than engaging with the fake elections, the international community should focus on putting the generals in jail, where they belong," the paper reported.
University of Melbourne's Prof. Kevin Jon Heller cautions that "attempt to refer Burma to the ICC would almost certainly be vetoed by Russia and China, both of whom have major energy interests in Burma and who have vetoed previous Security Council attempts to condemn the regime."
The campaign to bring war crimes charges against junta members, including General Than Shwe, Burma's de facto head of state, received a boost this month when the UN's special rapporteur, Tomás Ojea Quintana, described "a pattern of gross and systematic violation of human rights" of Burmese civilians. The abuses, including killings, rape, torture, ethnic cleansing and forced labour, were the result of long-standing state policy, he said, according to the paper.
The junta's decision to hold elections, the first since 1990 when the Burma's National League for Democracy (NLD) won in a landslide, is widely seen as an effort to gain international respectability for the regime and end US and EU sanctions. But activists and human rights groups have already denounced the rules of the poll.
NLD is led by the Nobel laureate Aung San Suu Kyi, who is under house arrest, is expected to announce on Monday whether it will register to participate in the elections. "If [Aung San] Suu Kyi decides to pull out, that will be the death knell for the elections," the British source said, according to the report in the Guardian.
(For updates you can share with your friends, follow TNN on Facebook, Twitter and Google+)