TNA says it does not uphold 'One country, two Nations' policy – JU Student Union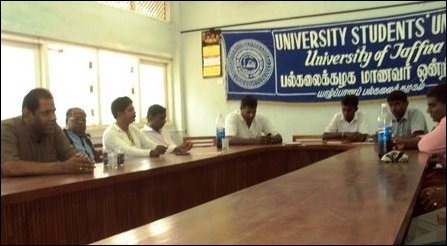 Jaffna University Student Union (JUSU) representatives held discussions individually with the candidates of Tamil National Alliance (TNA) and Tamil National Peoples' Front (TNPF) contesting forthcoming parliamentary elections Tuesday in which the candidates were requested to spell out their political principles, the stand and activities they intend taking after the election, the media report released by Jaffna University Student Union (JUSU) said. The discussion was organized by JUSU representatives so that the doubts prevailing among the Tamils about the political policies of both parties could be cleared. TNA did not accept TNPF's doctrine of 'One country, two Nations' but upheld the policy of 'One Country with Two Nationalities', the report quoted TNPF candidates.
TNA, while opposing the 13th Amendment and a political solution based on a unitary form of governance, was prepared to uphold the policy of 'One Country with Two Nationalities', the SU report said.
Though both TNA and TNPF had similar principles in the spheres of economic development they held different views on a political solution, it added.
There is legal space for the policy of 'One Country, Two Nations' and such a system embodies sovereignty whereas a 'Nationality' does not include same, TNPF candidates told the student representatives.
TNPF further said that sovereignty could only be attained when the Tamil Nation achieves the stage of a Nation with its own land.
When the subject of Indo-Sri Lanka Pact was taken up for discussion TNA said though TNA supported the pact it does not lead to a complete political solution while adding that TNA supported only the section which called for the merging of East and North. It further said that the appendix of the pact gives priority to the regional dominance of India and its economic interests.
In response to questions raised on the selection of candidates to the current parliamentary election TNA assured it would not commit similar error in the future and that action has been taken for the members not to violate party regulations.
Meanwhile, All Ceylon Tamil Congress (ACTC) chief candidate told the student representatives that his party is prepared to sacrifice anything for the benefit of Tamils.
Both TNPF and TNA had offered their full cooperation to JUSU in the discussion with the view to earn its support in the forthcoming parliamentary elections.
(For updates you can share with your friends, follow TNN on Facebook, Twitter and Google+)