Rajapaksa promises equality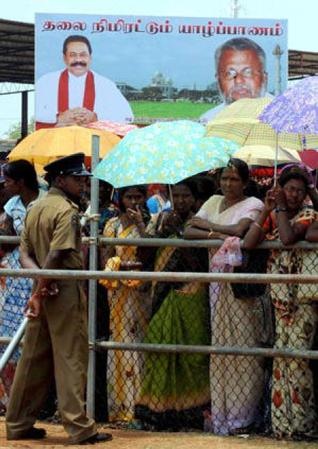 Sri Lankan President Mahinda Rajapaksa on Thursday promised reconciliation and development at an election rally organised by the ruling United People's Freedom Alliance (UPFA).
In his first visit to Jaffna after re-election in January, he promised to treat all citizens as equal and work towards national reconciliation.
"You have suffered for 30 years and it is time to enjoy fruits of freedom", he told a small gathering at the Durriappa Stadium amid heavy security.
The Northern Province in general and the Jaffna peninsula in particular had voted overwhelmingly in favour of the defeated opposition nominee, retired General Sarath Fonseka.
He conceded that the voters of the peninsula had not voted for him but added he was happy at the participation of the people in the democratic process.
Though Mr. Rajapaksa spoke mostly in Tamil, there was little enthusiasm among those present. Despite repeated references by those present on the dais on the need for early and fully implementation of the 13th Amendment to the Constitution on devolution of powers, Mr. Rapakasa skipped the contentious issue.
Mr. Rajapaksa paid a visit to the historic Nallur Temple. He also visited the Buddhist shrine at Nagadeepa Vihara.
Transformation
There is little doubt since the military demise of the LTTE in May, the Jaffna town has undergone dramatic transformation. However, the people continue to be worried over issues like large presence of military and the prevalence of High Security Zones.
The town is buzzing with activity with hundreds of small traders who have invaded the town virtually from ever part of the island nation. The opening of the A9 Highway and easing of restrictions on movement of people and fishing rights has helped in easing the economic hardships of the people of the peninsula.
A random interaction with some of the citizens in the town revealed that the locals are apprehensive of the hordes of small time traders descending on the peninsula from the south.
(For updates you can share with your friends, follow TNN on Facebook, Twitter and Google+)